A touch of bold colour, a lift of faith, bringing hope of Heaven and revealing God's gift of grace.
~~~
Enjoy scrolling through my gallery of paintings including Bible verse Scripture art, animals and pet portraits. Have a look at my shop to see which original paintings are available and giclée fine art prints. There are also greeting cards available of certain paintings. If you would like to have a print of one of these original paintings or if you request your own general painting commission of an animal/Scripture verse/landscape etc. please contact me for a quote.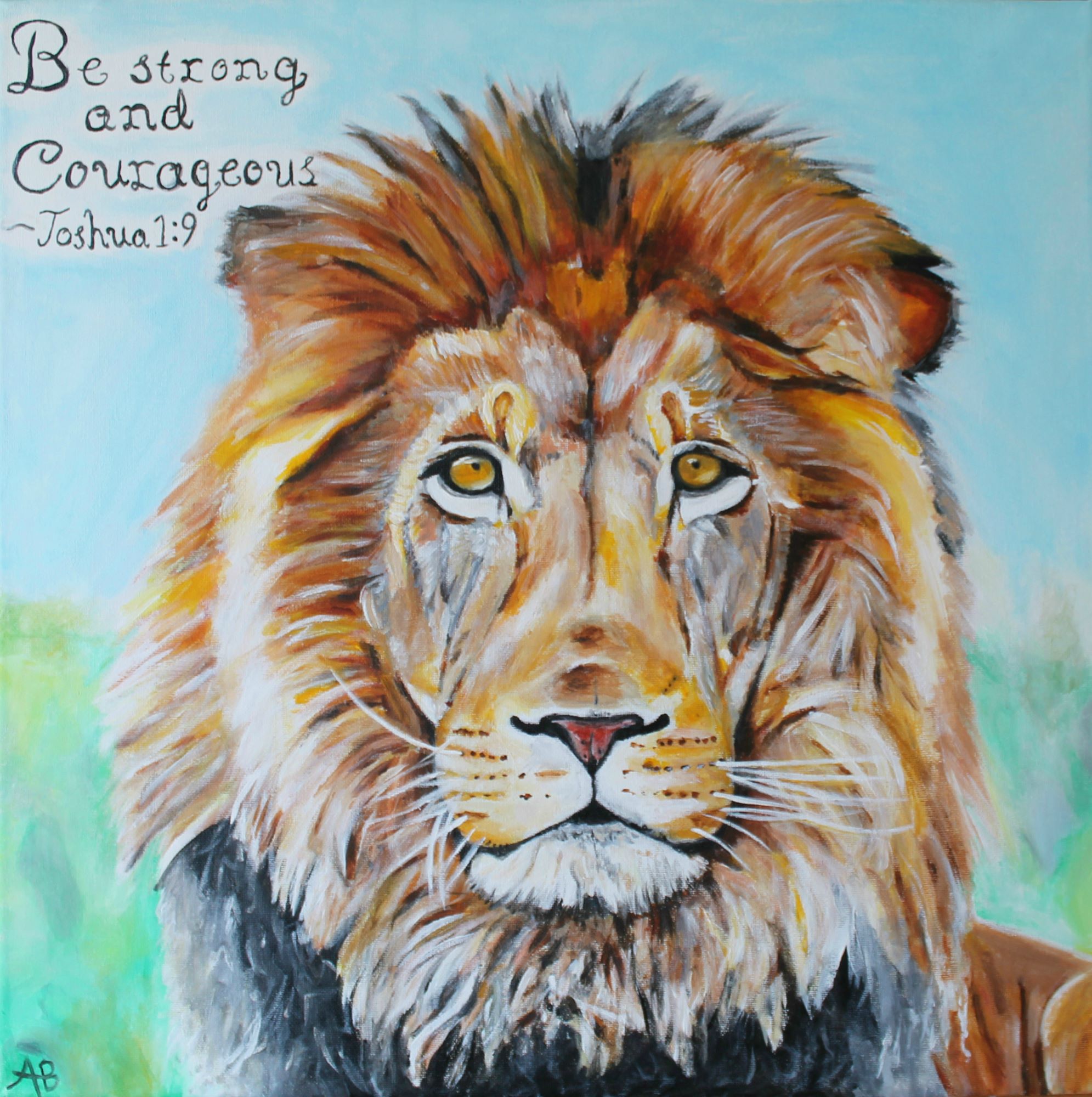 "Have I not commanded you? Be strong and of good courage; do not be afraid, nor be dismayed, for the Lord your God is with you wherever you go." ~ Joshua 1:9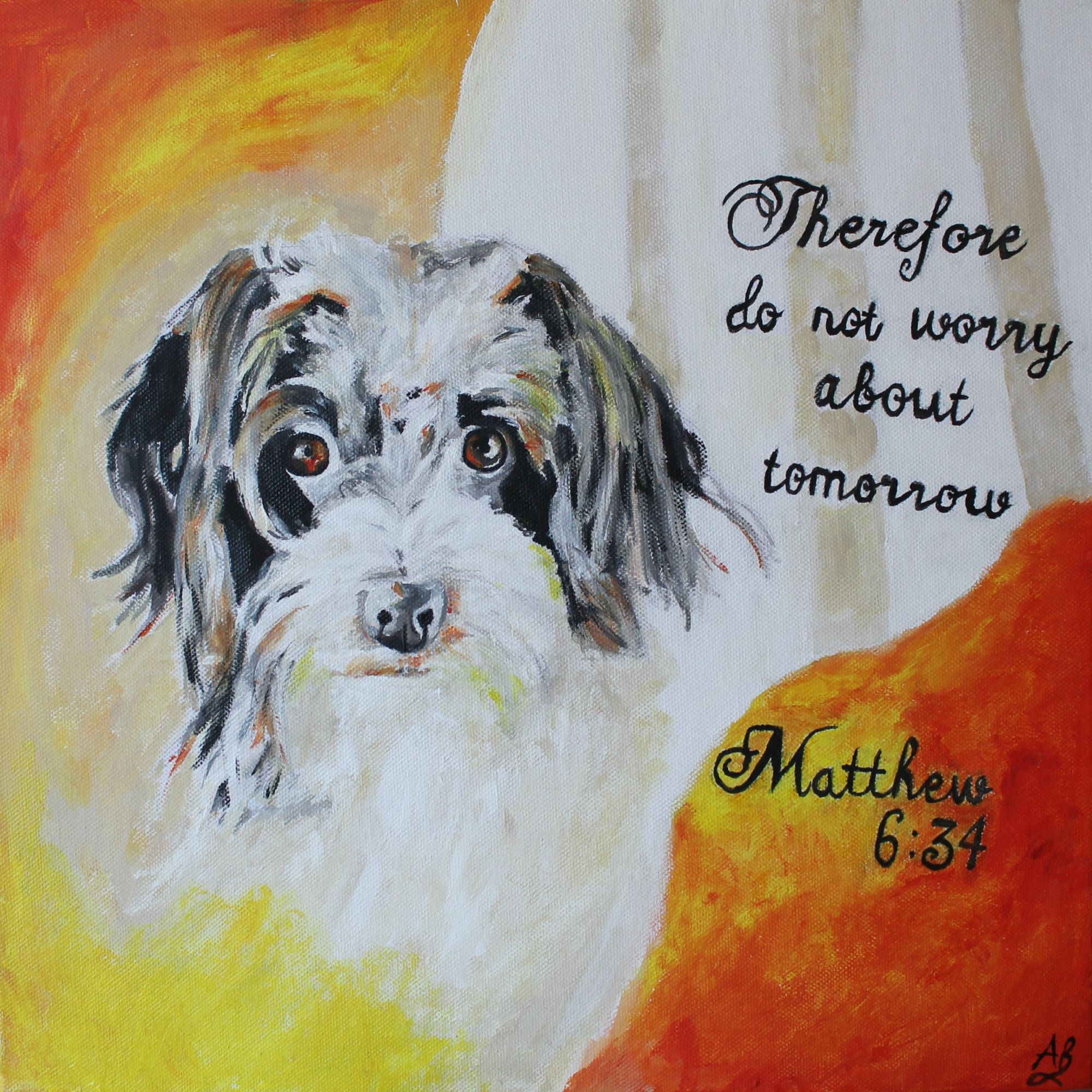 Pet portrait of our dog Rosie using acrylics on canvas, featuring the Bible verse where Jesus said, "Therefore do not worry about tomorrow." ~ Matthew 6:34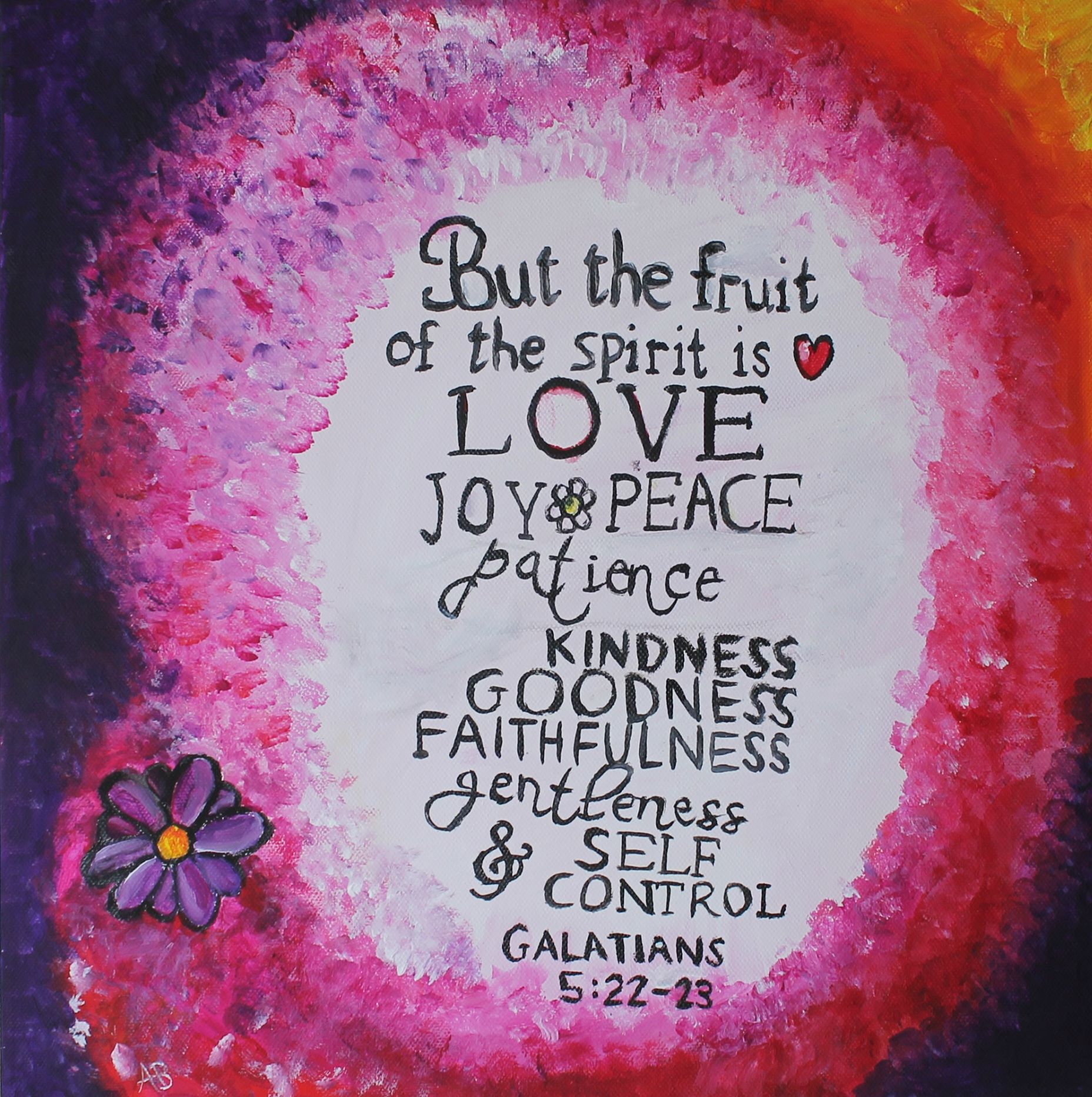 Acrylic on canvas, displaying the fruit of the Spirit from Galatians 5:22-23. The Holy Spirit produces this fruit in our lives as we abide in Jesus, who is the true vine.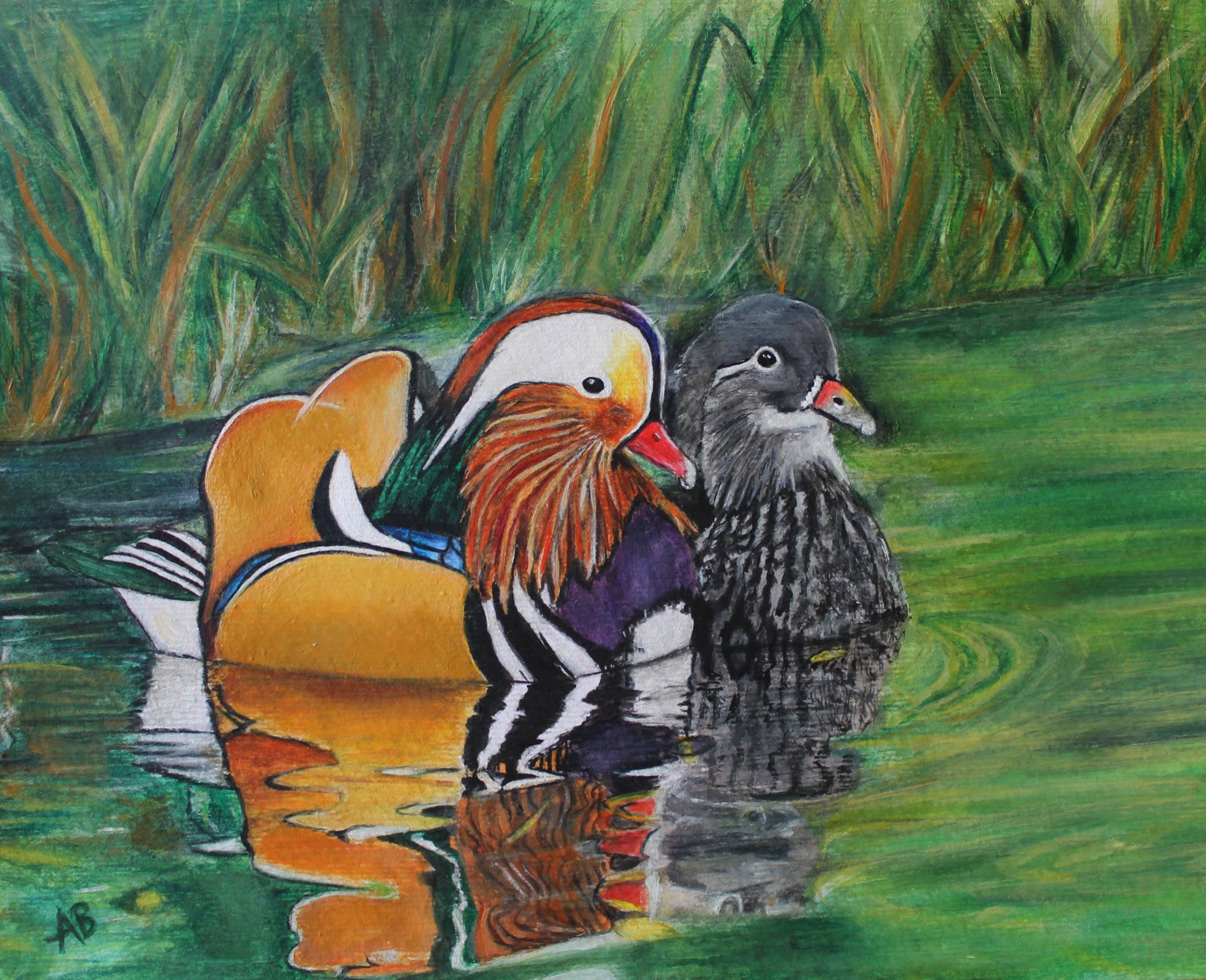 The mandarin duck is a beautiful creature designed by our Creator God. The variety of colours He has chosen, it is a touch of Heaven on earth. The first time I discovered this duck existed, I was overwhelmed with joy and knew I had to paint them!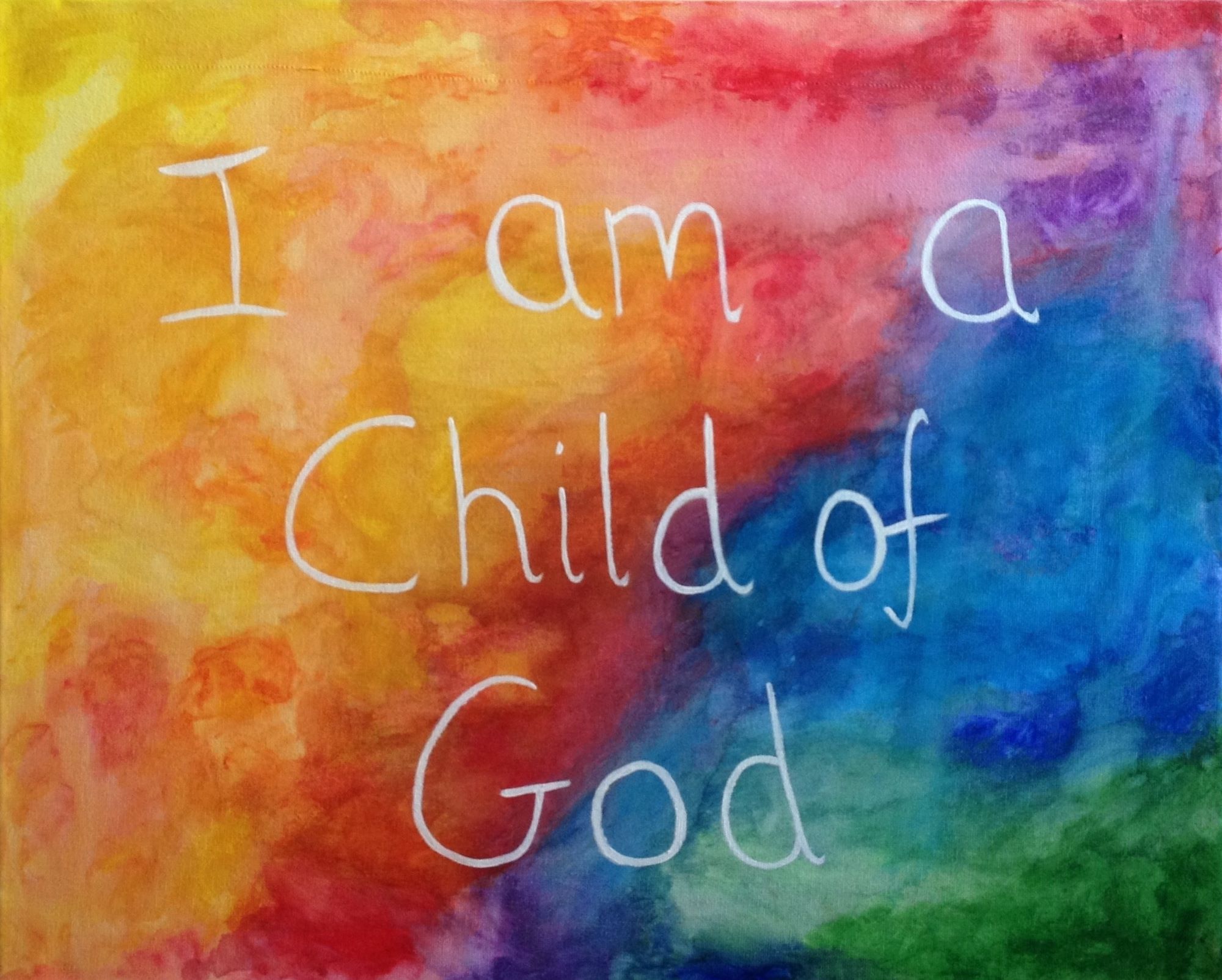 Multicoloured watercolour background with white acrylic writing. Inspired by the song 'no longer slaves' by Bethel Music. "I'm no longer a slave to fear, I am a child of God." ♪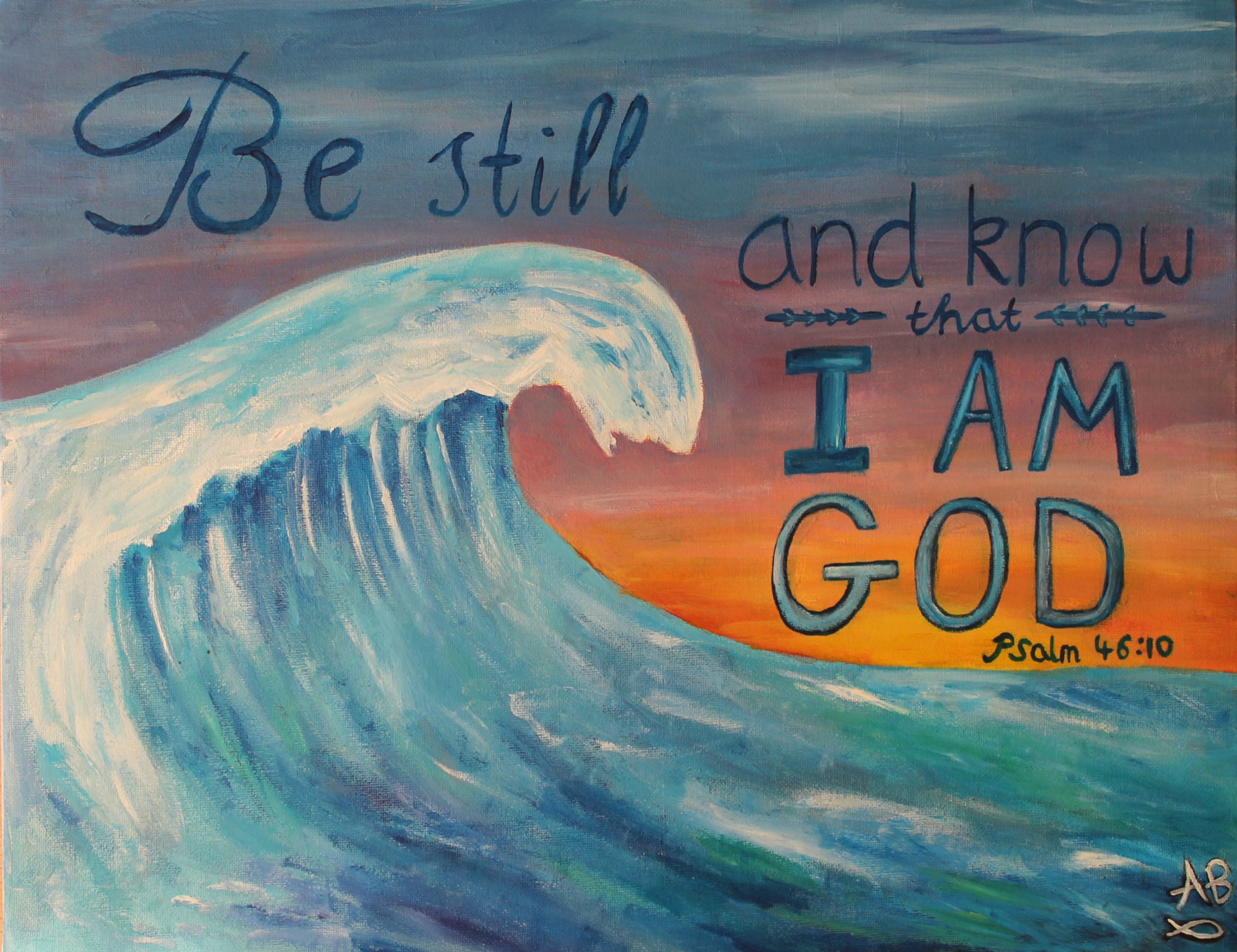 'Be Still and know', we are to be still and know that He is God, even when there are storms in our lives which seem to be overwhelming us like a wave, we can trust God and know that His voice can calm the sea.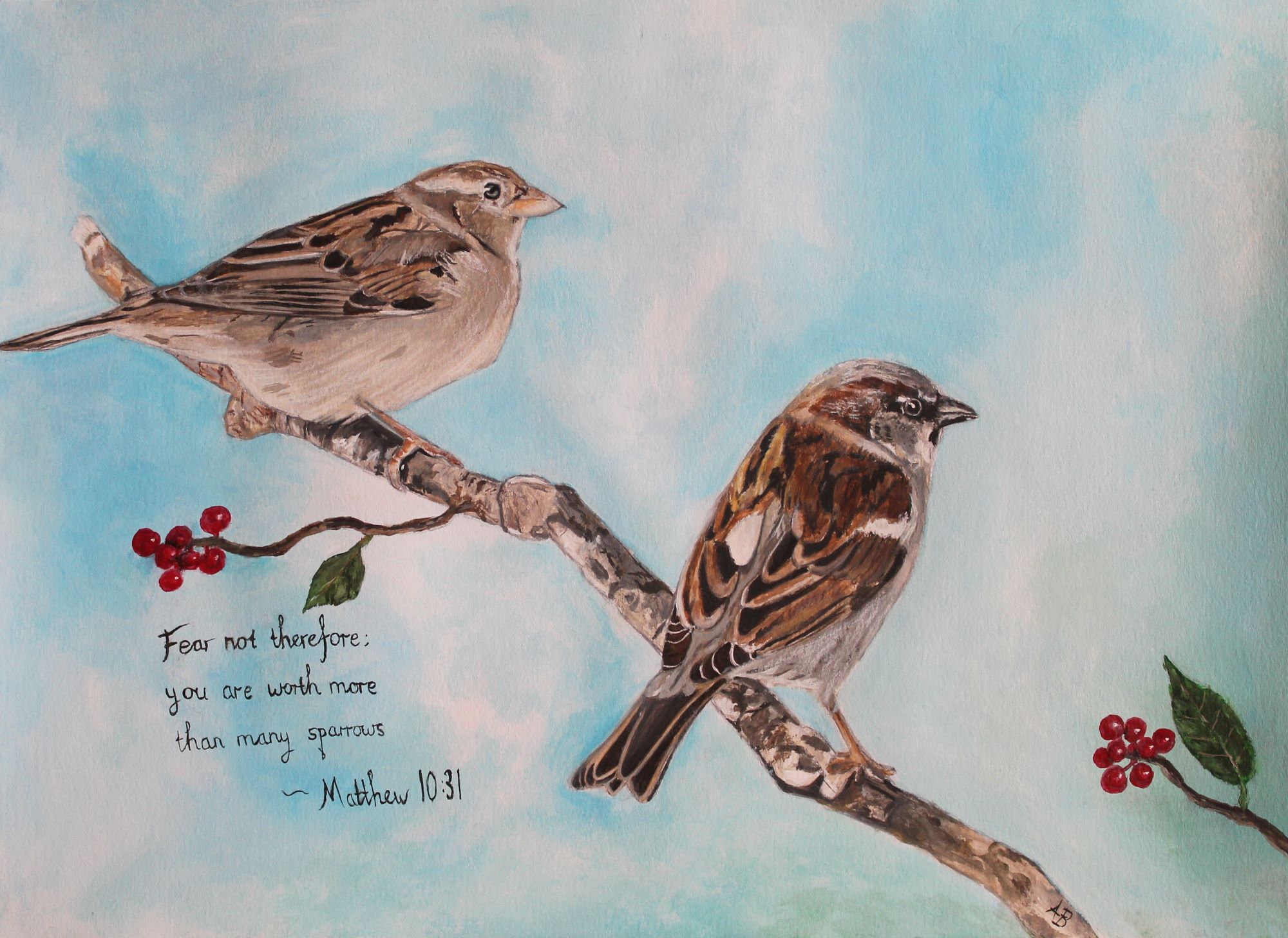 'Fear Not' was a painting I gave as a gift to a friend. God told me to paint sparrows. It was inspired by a verse where Jesus comforted His disciples saying, "Fear not therefore, you are worth more than many sparrows."
If God cares about the sparrows, how much more does He care for each one of us? You are loved and valued by God, made in His own image.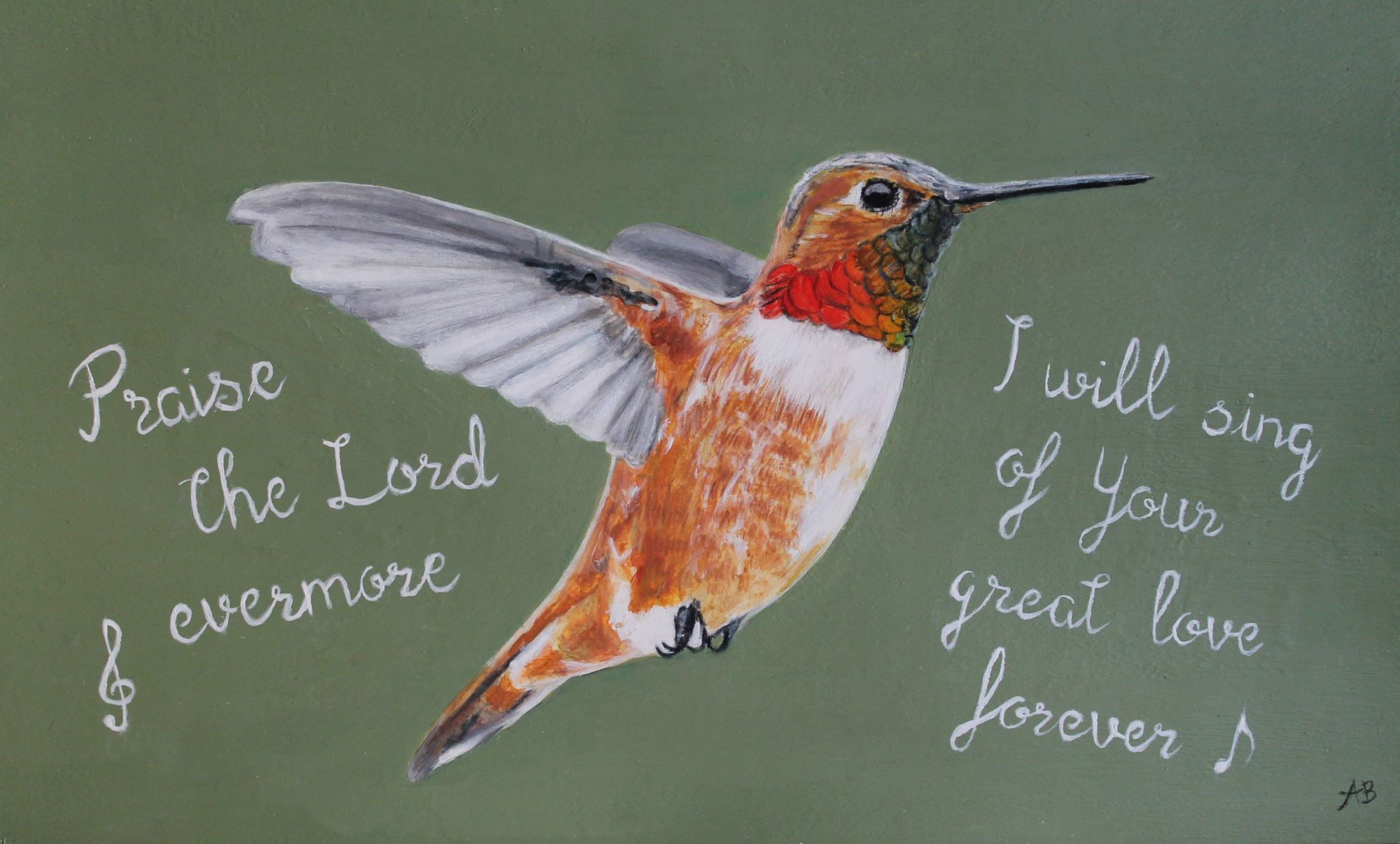 'Evermore' mixed media painting featuring the Rufous hummingbird.
'Praise the Lord, evermore, I will sing of Your great love forever', these lyrics were inspired by Worship Central's song 'Praise the Lord (Evermore)'. ♪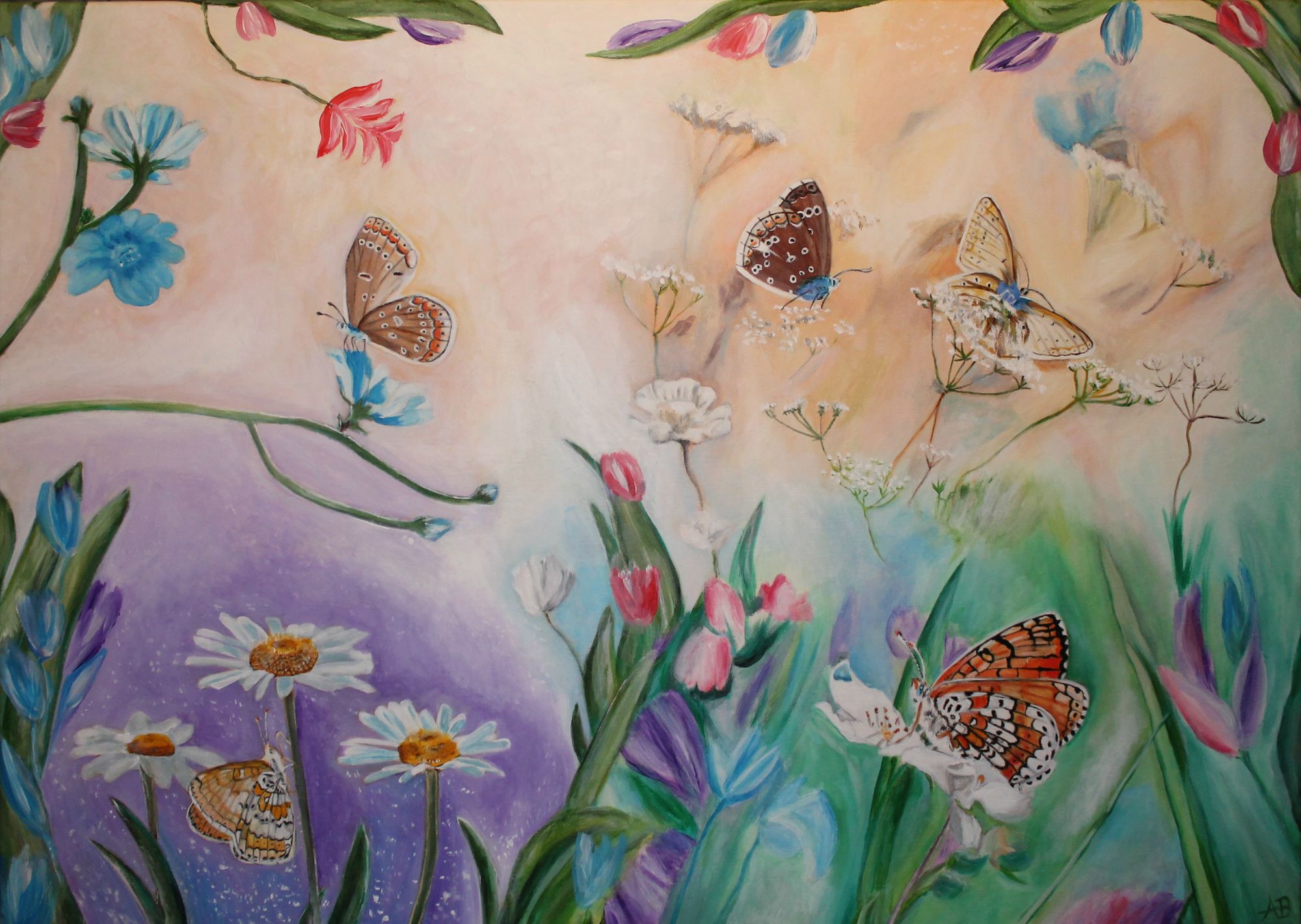 For this special commission, I was asked to paint whatever God told me. God kept giving me signs of butterflies. He gave me the name 'Tatiana' and I found out that someone with that name photographs butterflies! Using four photos as reference images, I painted one big canvas.
Butterflies represent new life and ressurection, 'Therefore, if anyone is in Christ, he is a new creation; old things have passed away; behold all things have become new' ~ 2 Corinthians 5:17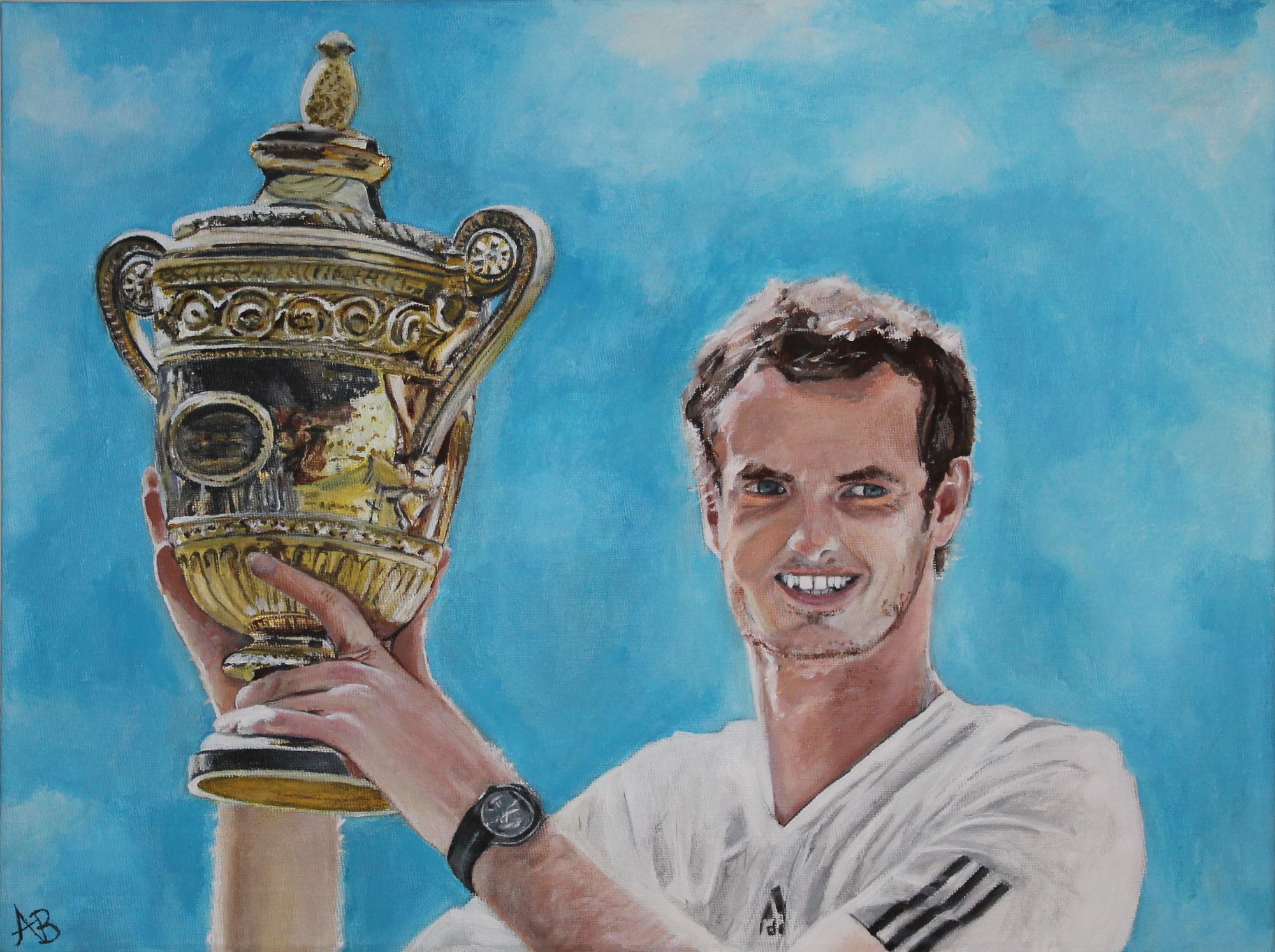 This was a painting commission for a friend of the famous tennis player Andy Murray holding the Wimbledon trophy, using acylics on canvas.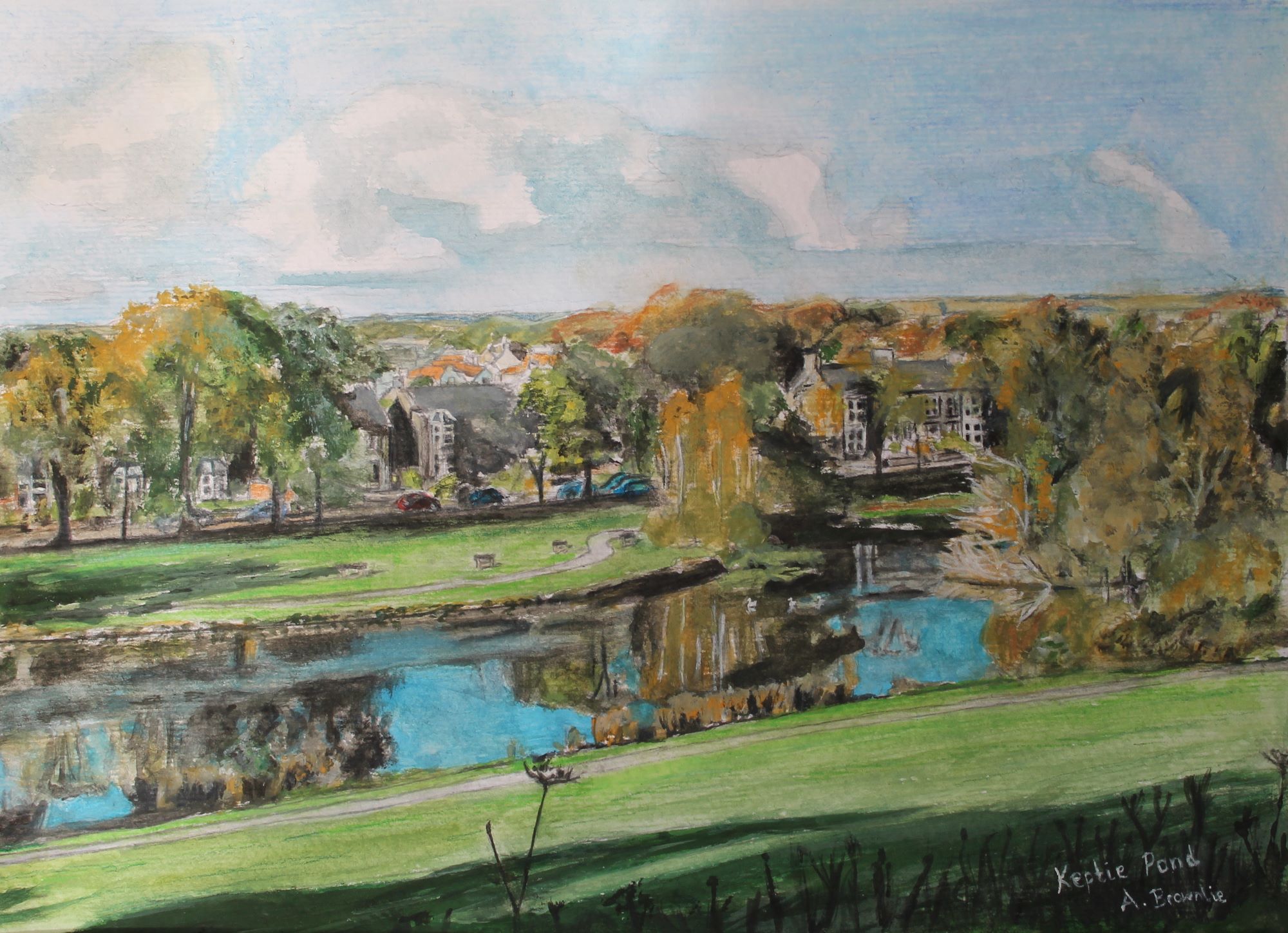 This is a painting commission of Keptie Pond in Arbroath, Scotland using watercolours. You can see the reflection of the trees in the water.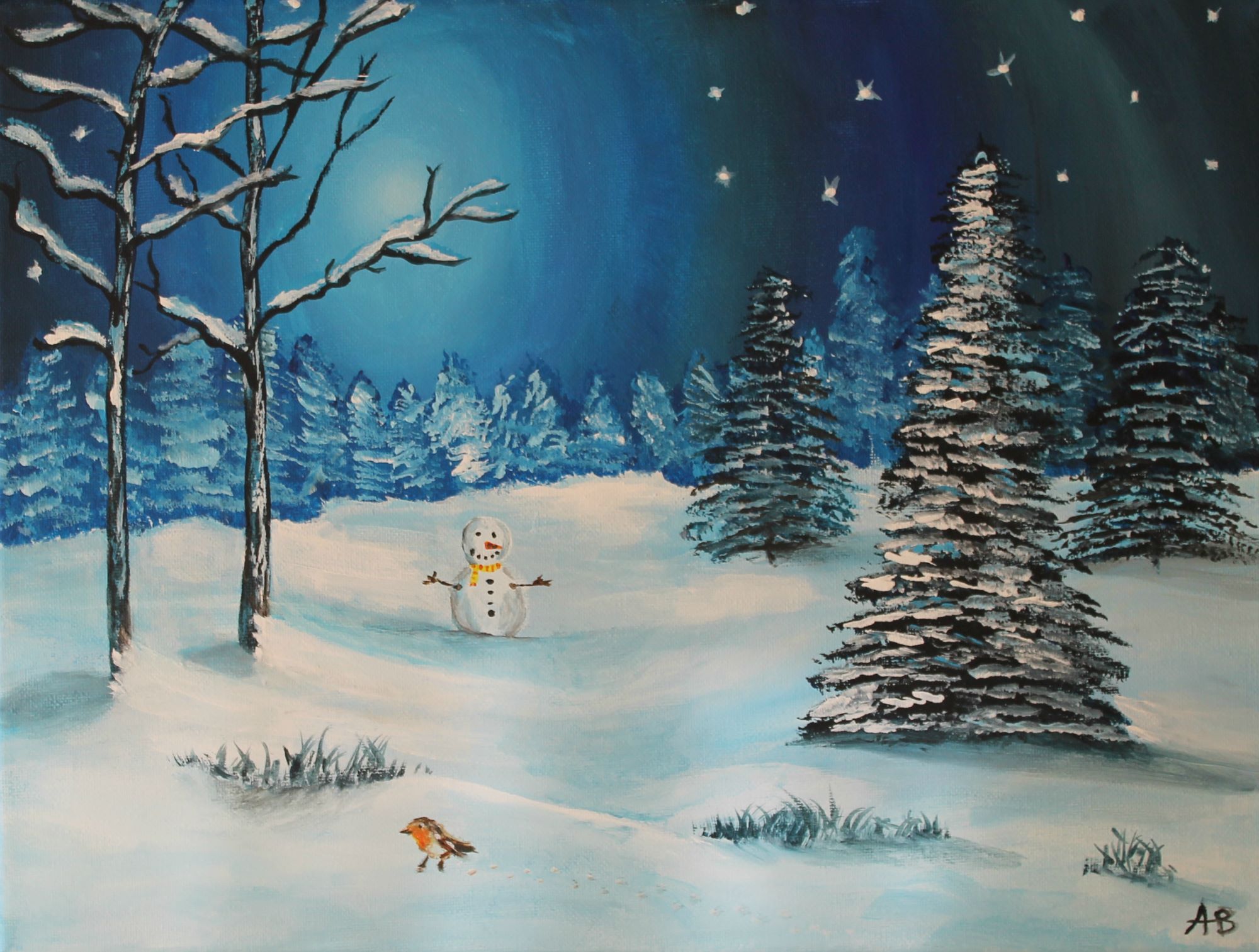 A snowy scene painted with acrylics on canvas. This painting reflects a cold night in winter, the crisp and clear evergreen tree on the right in the foreground stands out with the moonlight highlighting the snow on the branches.
The fun snowman with a scarf and the robin adds an extra touch to the painting.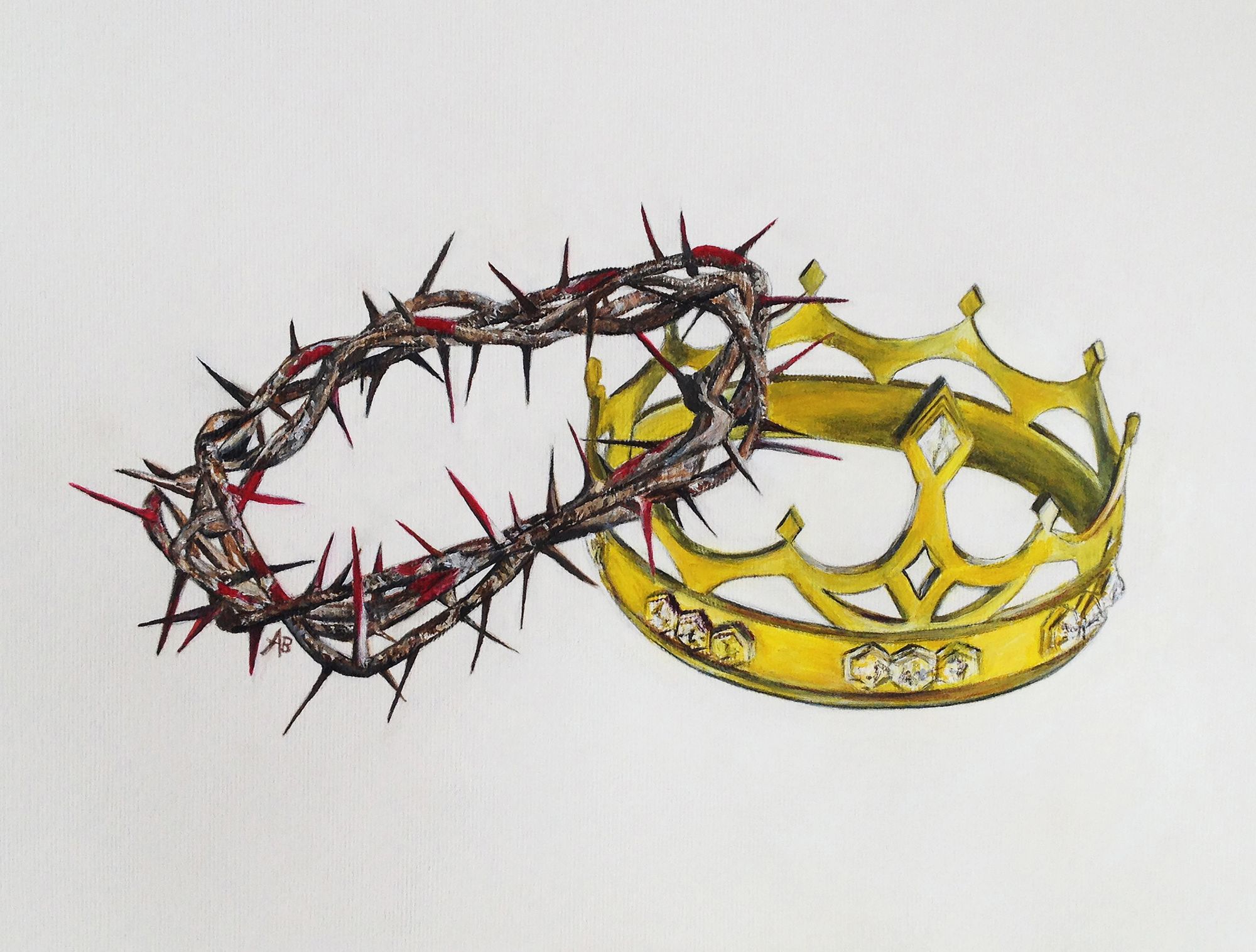 'Victorious' painting using acrylics displays the crown of thorns that was put around Jesus' head. They did it to mock Him but now He wears the Victor's Crown as He defeated death by rising on the third day!
'For the wages of sin is death; but the gift of God is eternal life through Jesus Christ our Lord' ~ Romans 6:23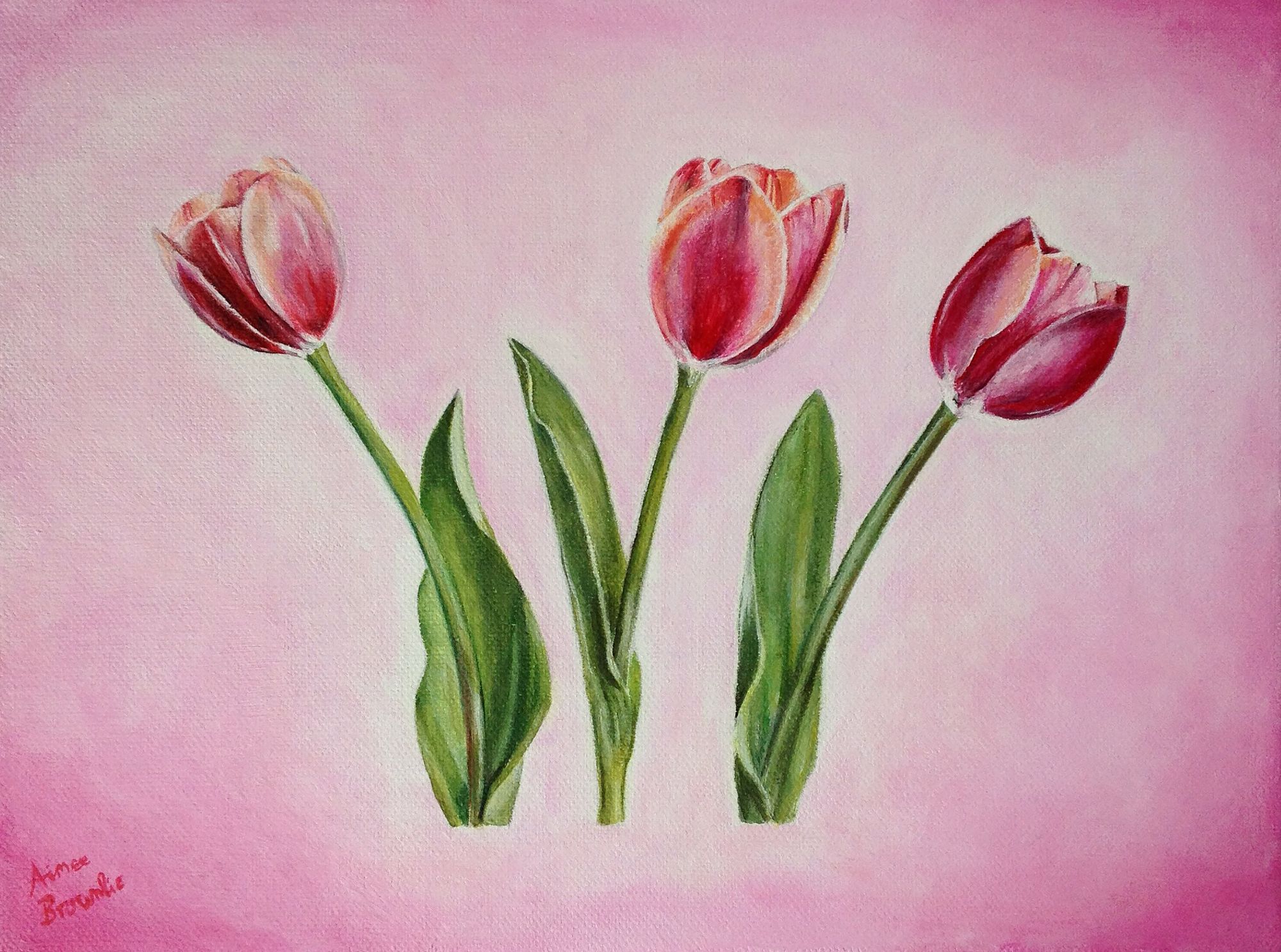 'Perfect Love' is inspired by the Bible verse 1 John 4:18 'There is no fear in love; but perfect love casts out fear, because fear involves torment. But he who fears has not been made perfect in love.'
The three tulips represent God in three persons - Father, Son and Holy Spirit. His love and acceptance drives out all fear. He desires for us to let Him love us, so that all our fears which hold us back fade away under the power of His love.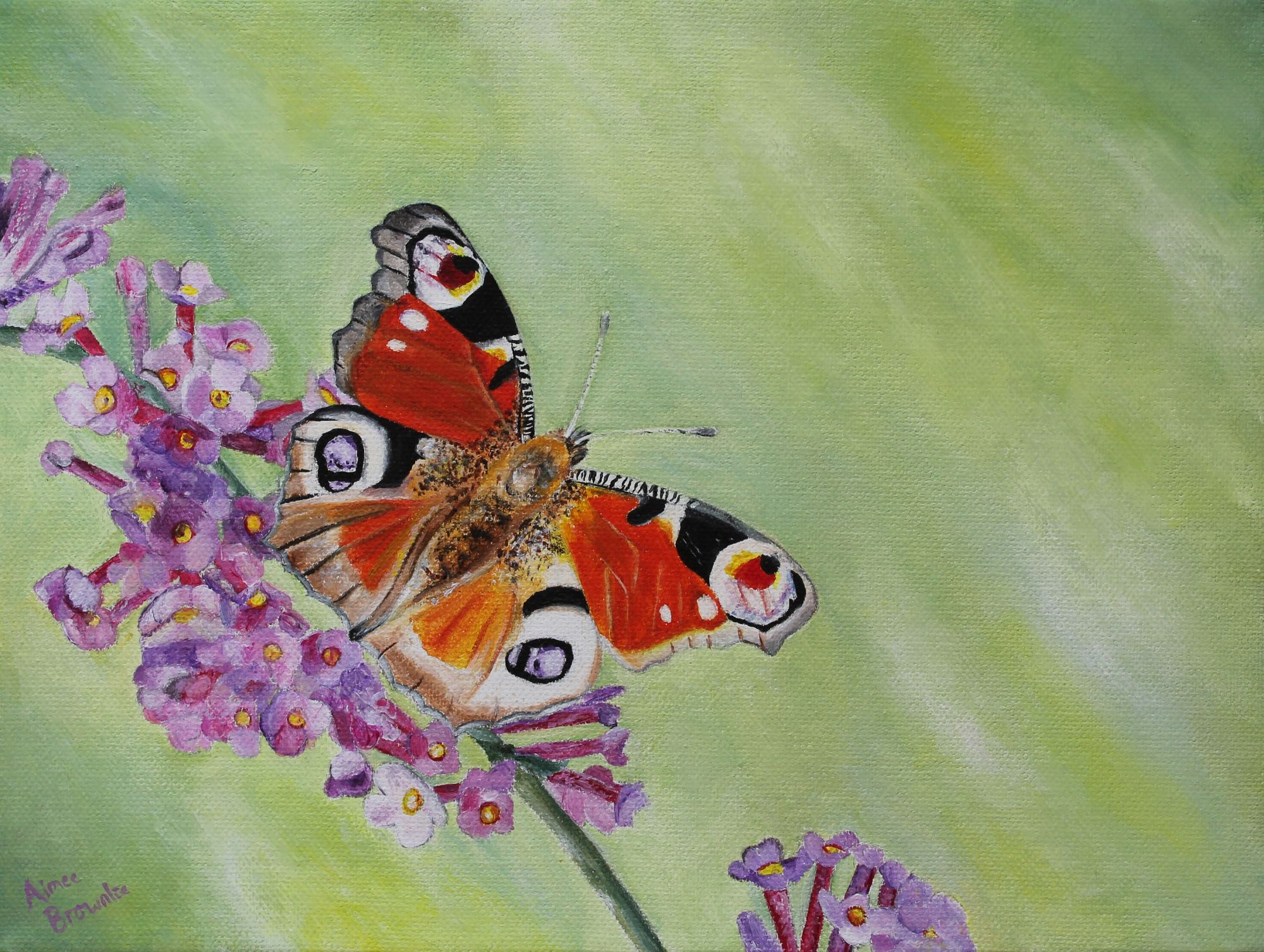 'Wonder' displays both the wonder of God's creation of the butterfly and the wonder of becoming born again! Just like the butterfly goes from being a caterpillar to a butterfly that can fly!
We become completely transformed when we go from death to life, darkness to light, without hope to a living hope, disobedience to obedience to Christ. And this is all His doing not ours, when we choose to repent and recieve the gift of salvation through faith in Jesus!
It's a mystery and wonder to have God come live inside of you and make you completely new!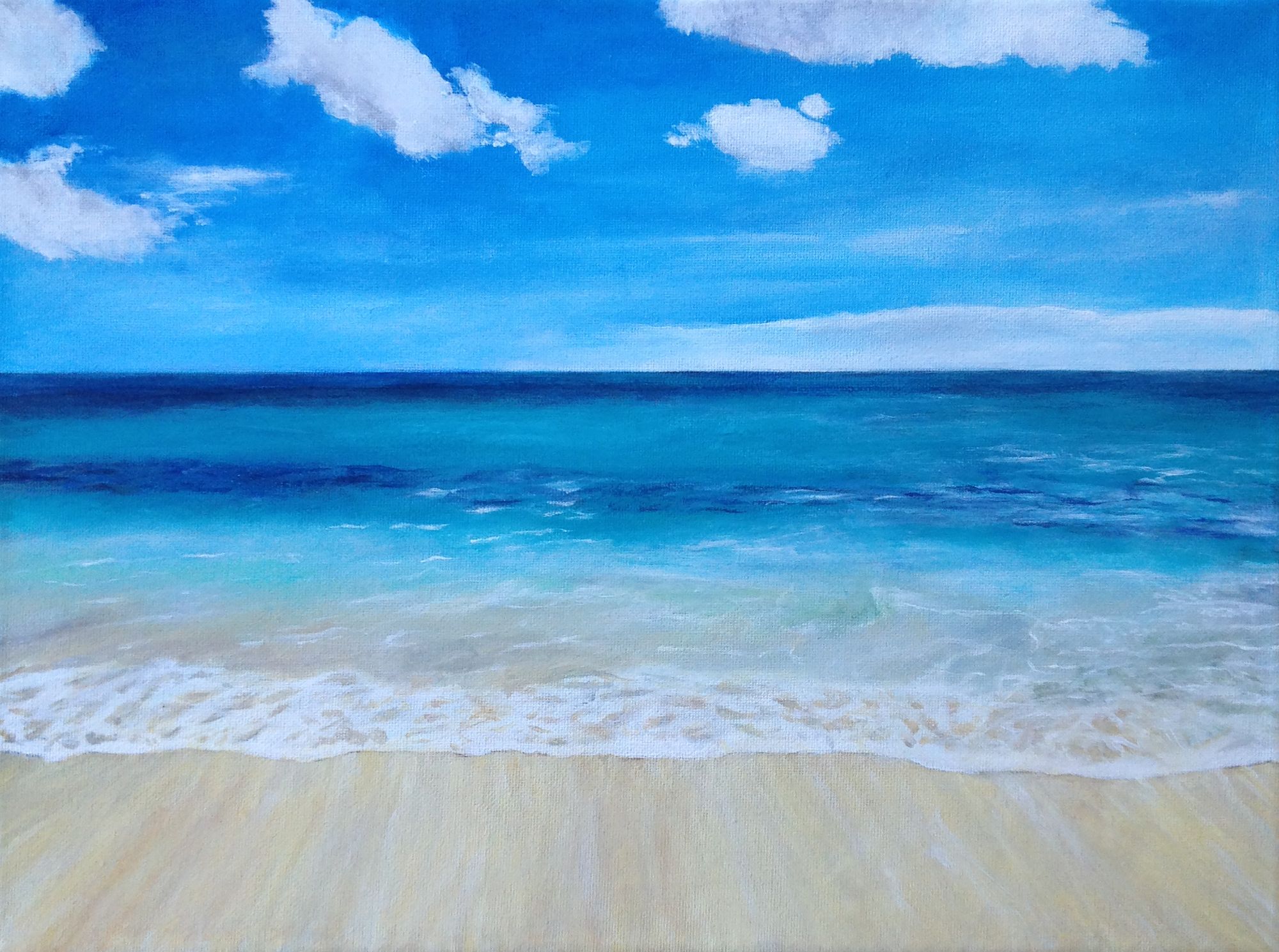 'Sea of Grace' original acrylic painting on canvas.
As I painted this, I could imagine wave after wave of God's grace and His love crashing over me. His grace covers every sin and weakness. There is no thing too difficult for God to handle, no one who is too far gone for His reach. All He asks of us is to open our hearts to Him and surrender all.
'Amazing grace, how sweet the sound, that saved a wretch like me. I once was lost but now am found was blind but now I see.' ('Amazing Grace' 1779, John Newton).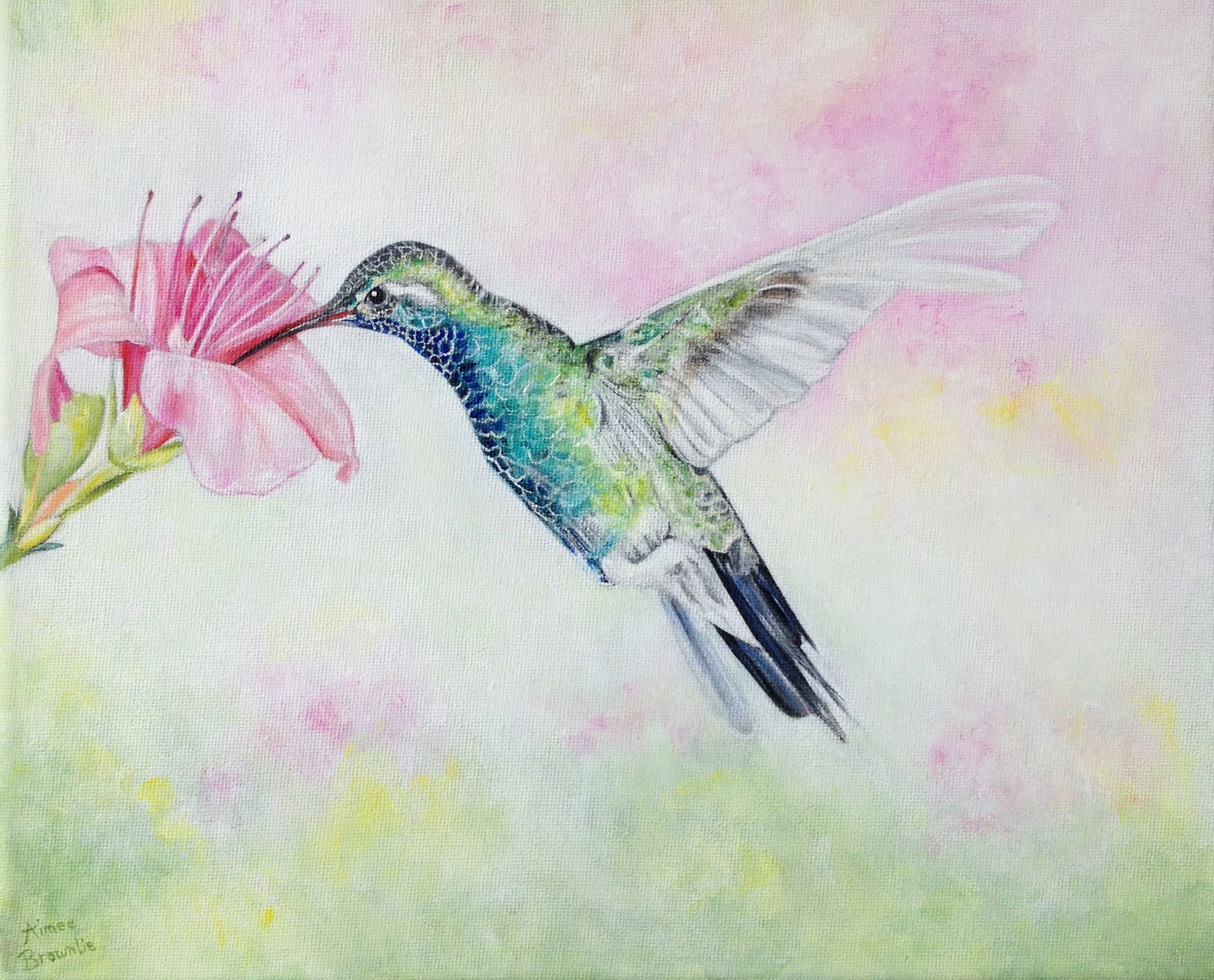 'Pure Delight' acrylic on canvas. This painting of a hummingbird coming to a flower to drink nectar represents us coming to God to commune with Him. It is God's desire that we drink deeply of His Spirit, His love and His joy. There is nothing that can satisfy our souls like the One who made us. We can be filled continually, everyday as we worship and adore him, read His word, pray and spend time with Him.
Jesus said, "If anyone is thirsty, let him come to Me and drink. Whoever believes in Me, as the Scripture has said: Streams of living water will flow from within him'" ~ John 7:37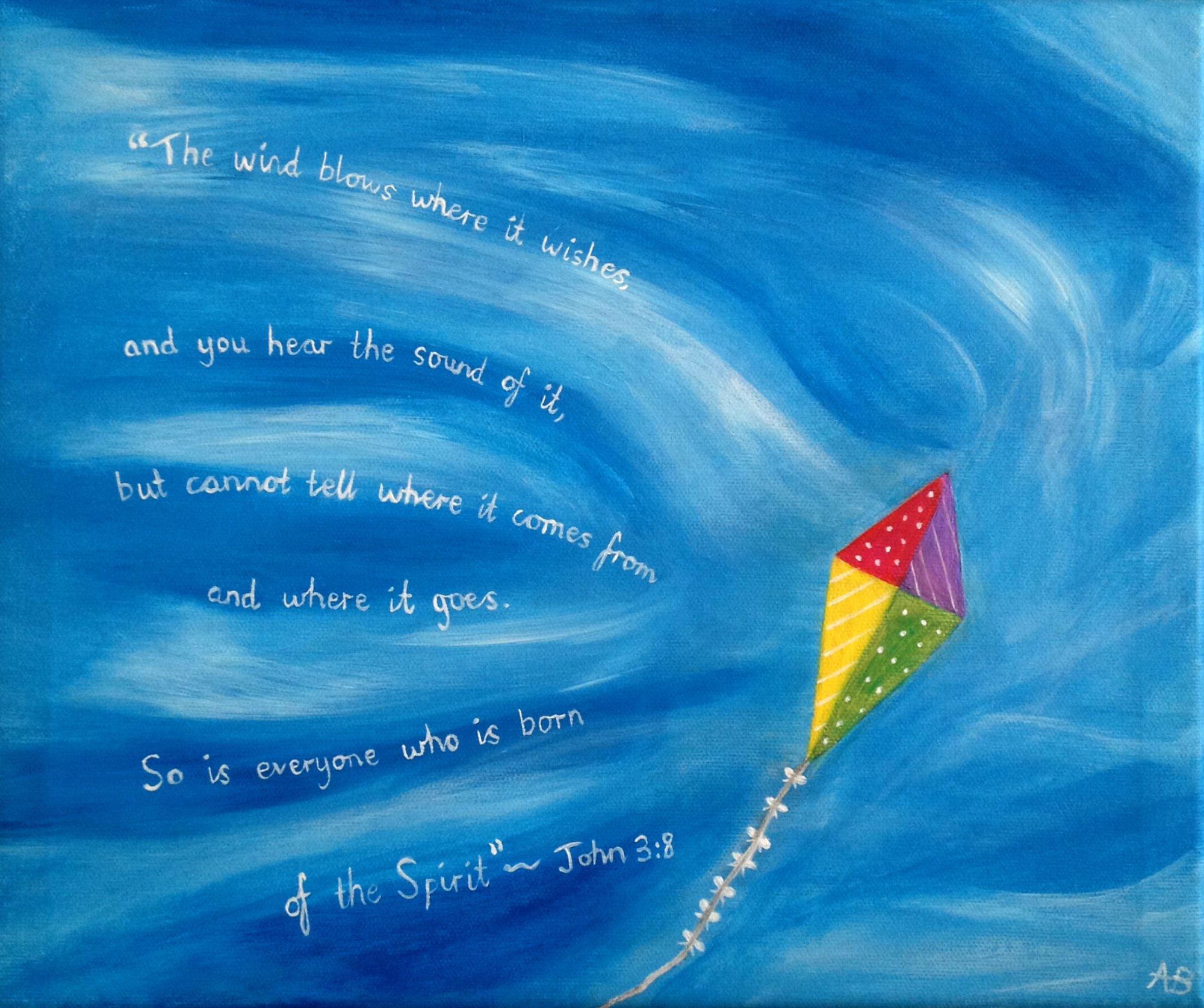 'Wind of the Spirit' acrylic on canvas. This painting is inspired by John 3:8 in the Bible where Jesus is talking to Nicodemus and said, "The wind blows where is wishes, and you hear the sound of it, but you cannot tell where it comes from and where it goes. So is everyone who is born of the Spirit."
When someone comes to faith in Jesus, they get born again and the Holy Spirit comes to indwell them. They are sealed for the day of redemption and this happening is likened to wind blowing as you can't see that it has happened.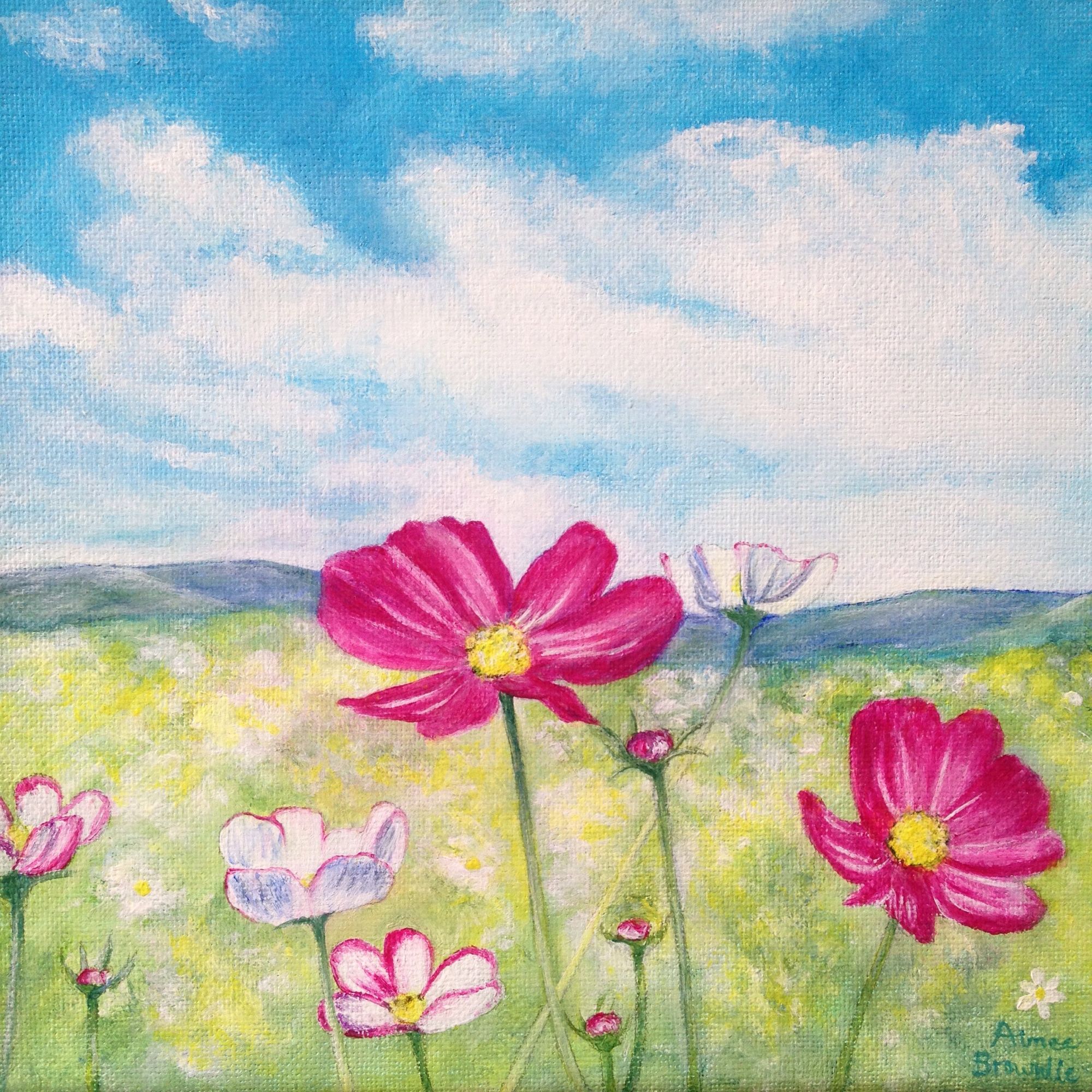 'Summer Meadow' acrylic on canvas painting. Wild flowers grow freely in the meadow, bringing excitement, joy and colour. Soft white clouds and blue sky above, reveal a landscape of God's love.
The warm air is pleasant in summer, the fragrance from flowers delights the heart. A fresh breeze brings refreshment outdoors, as you go out to explore. The simple things can bring a smile, when you stop and look for a little while.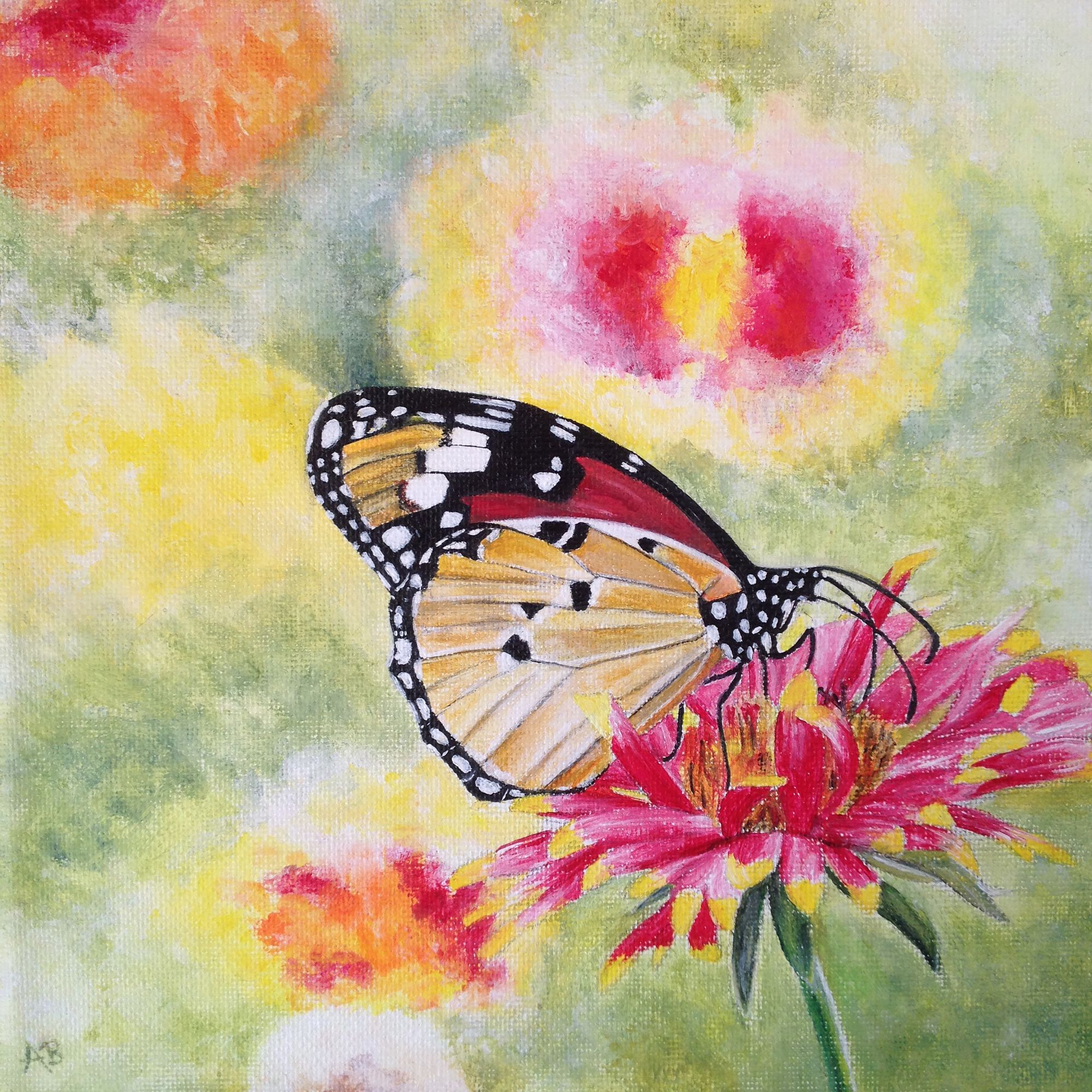 'Exuberant joy' acrylic on canvas butterfly painting. Bursting with bright, bold colours, this painting celebrates the joy of abundant life, the beauty of creation and the joy that having a relationship with our Creator God brings. He enriches our lives with great things and He pours His blessings down on us. It is good to give thanks to God and sing praises to His name!
'You will show me the path of life; In Your presence is fullness of joy; At Your right hand are pleasures forevermore.' ~ Psalm 16:11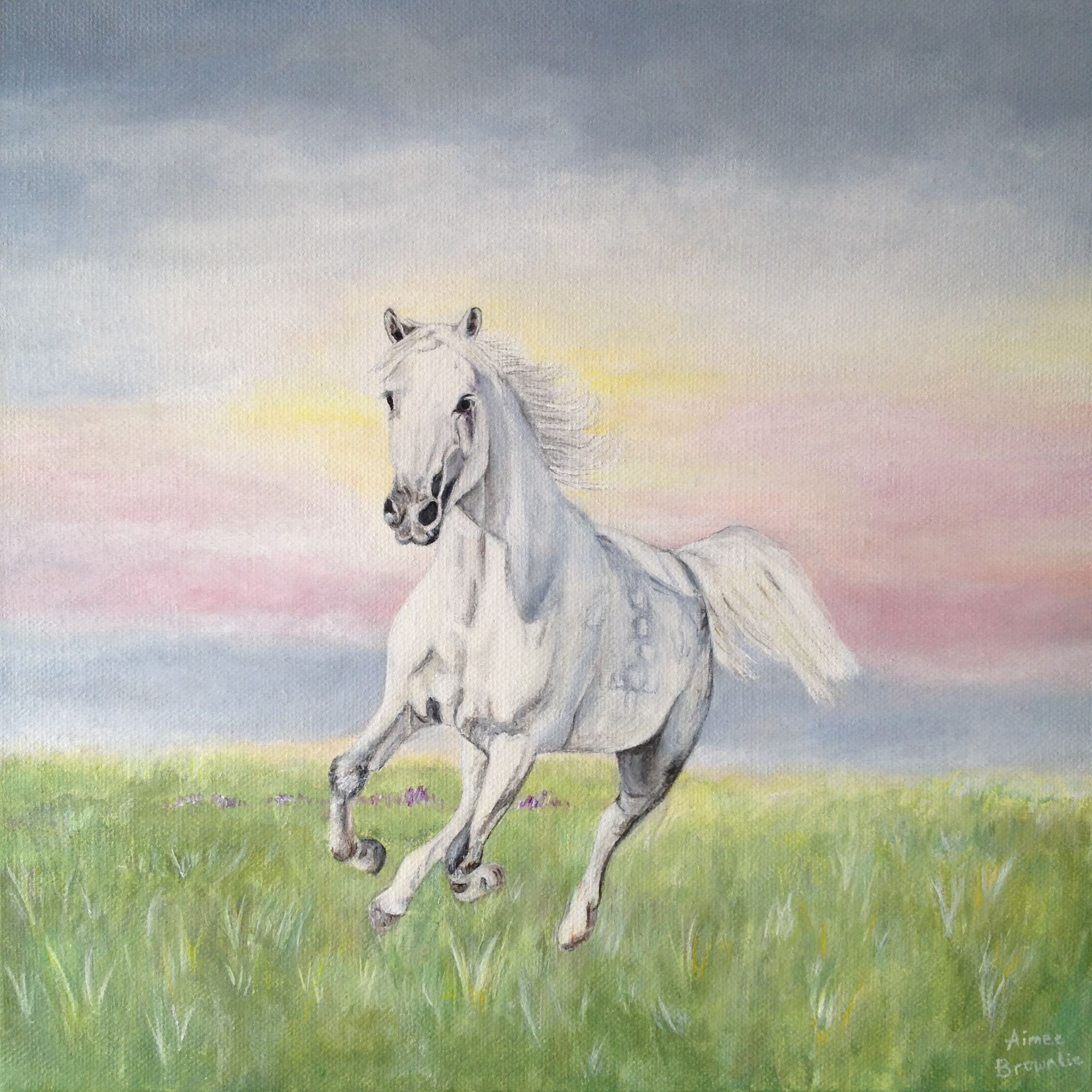 'White Horse' acrylic on canvas painting. This painting of a white horse is inspired by a passage of Scripture from the book of Revelation. It describes the vision the disciple John had on the Island of Patmos. He saw Jesus on a white horse with the armies in Heaven, clothed in fine linen, white and clean, following Him on white horses.
Revelation tells of coming events in the future. In the end, Jesus and all of us who are His faithful followers will win and all evil, sin and death will be no more! We can choose to be with Him and be on the winning side, for He has defeated death and His victory is ours too if we receive Him!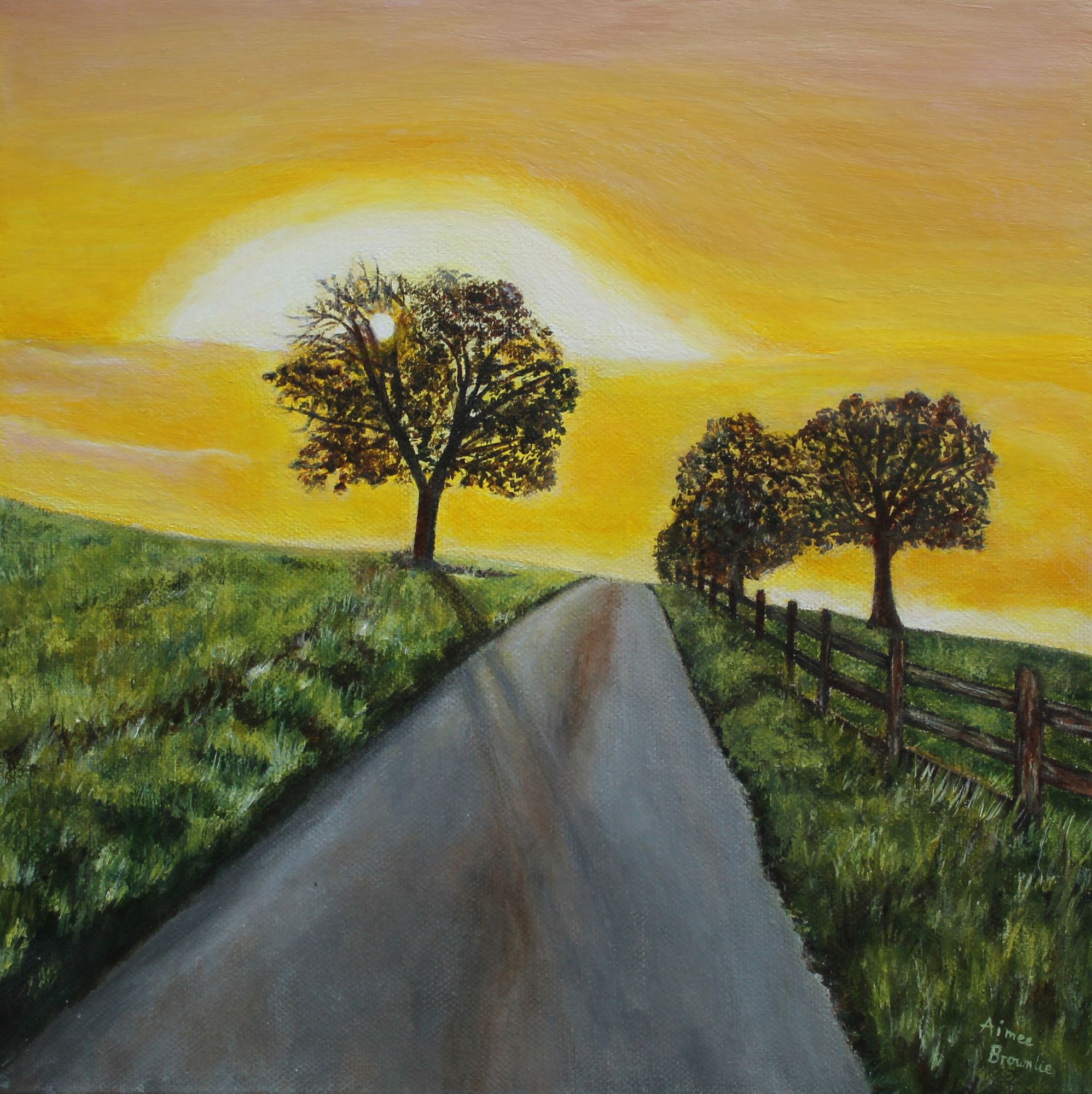 'Bright Hope' original acrylic on canvas painting. In this painting your eyes are drawn to the sun breaking through the tree on the left, to welcome another day. The sunrise represents resurrection and finding new life in Christ. The eyes are opened and there is an ability to see clearly, to see the world with new eyes and to appreciate the beauty of all God has made.
The painting expresses finding the right path, the good way, the straight and narrow road to Heaven through receiving Jesus. The sky glows with light and life for surely the hope we have is bright and it is certain, as certain as the rising of the sun!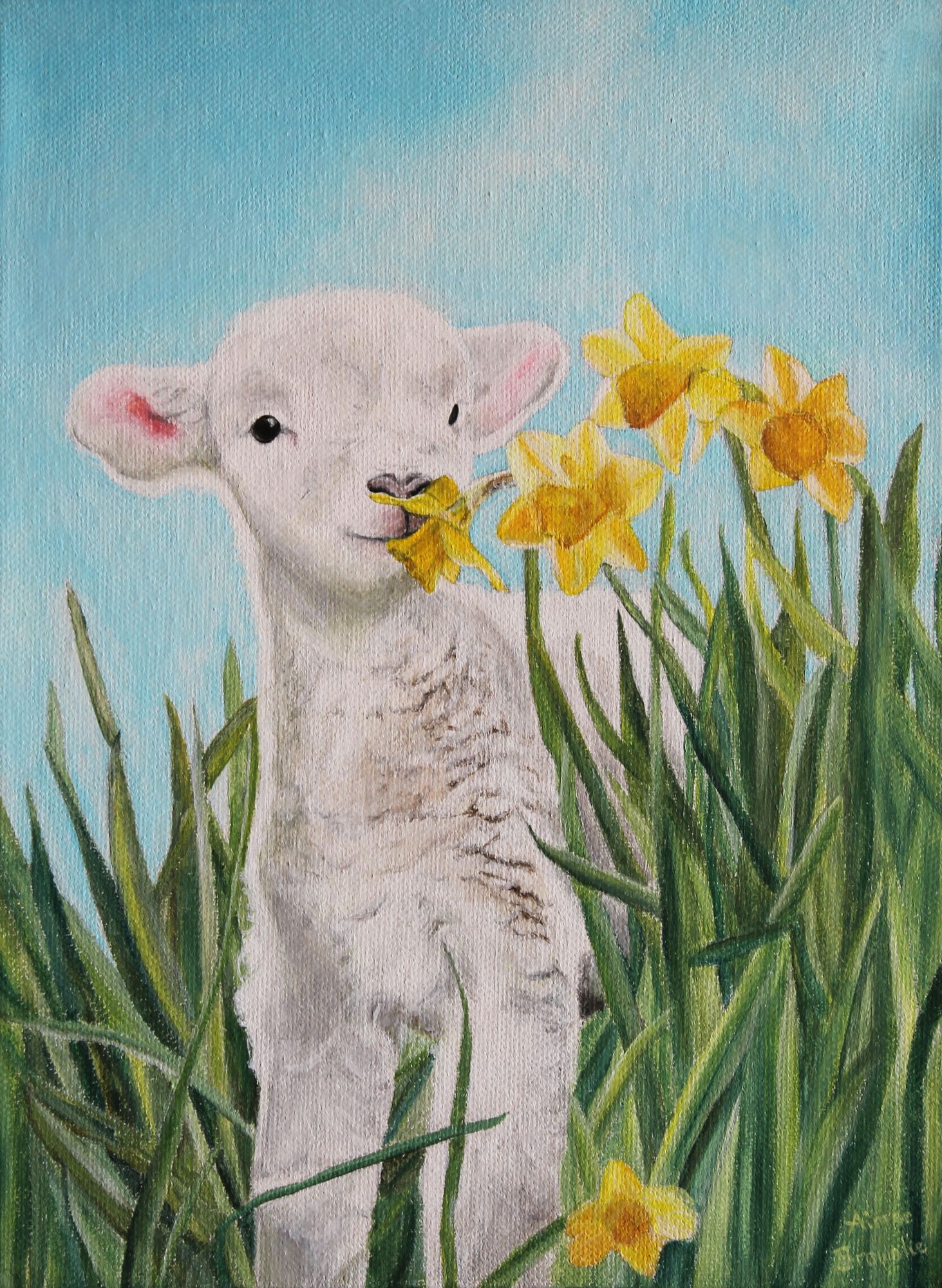 'Spring Lamb' acrylic on canvas. A spring themed painting of a young lamb exploring amongst daffodils. We know it's springtime when the bright yellow daffodils burst forth and there is new life!
Flowers come up bringing beauty to gardens, the colours, leaves and buds come forth on trees, birds singing and the warm sunshine on your back. Spring is one of my favourite times of year.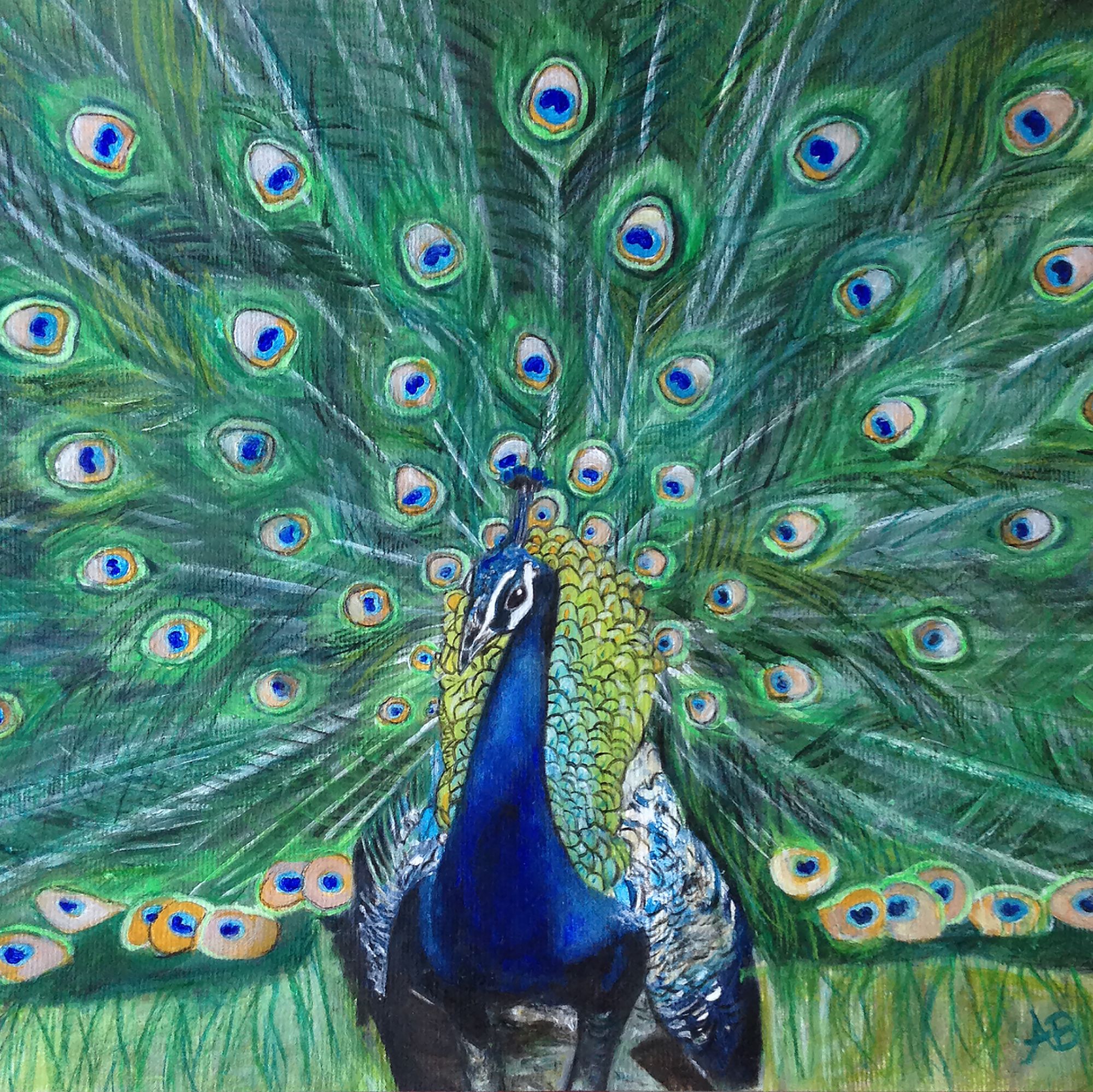 'Peacock Glory' mixed media painting. The peacock is a very unique creature designed by God which reveals great beauty, wonder and glory! It displays God's majesty and awesome splendour!
As the Bible says, '...all things were created by Him and for Him. And He is before all things, and in Him all things consist.' ~ Colossians 1:16-17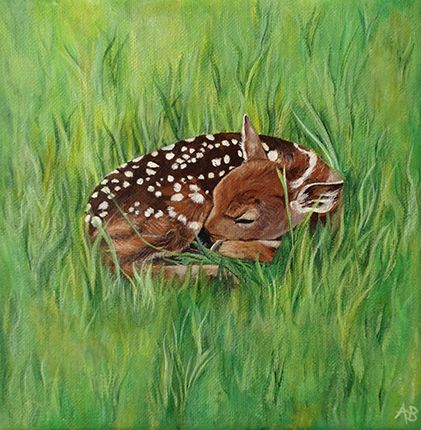 'Safe Place' acrylic on canvas. This painting of a fawn sleeping peacefully, safe and sound, represents the peace and safety we have in Christ when we go to sleep. Jesus gives His beloved sleep and we can trust Him each night and not be afraid.
'I will both lie down in peace, and sleep; for you alone, O Lord, make me dwell in safety' ~ Psalm 4:8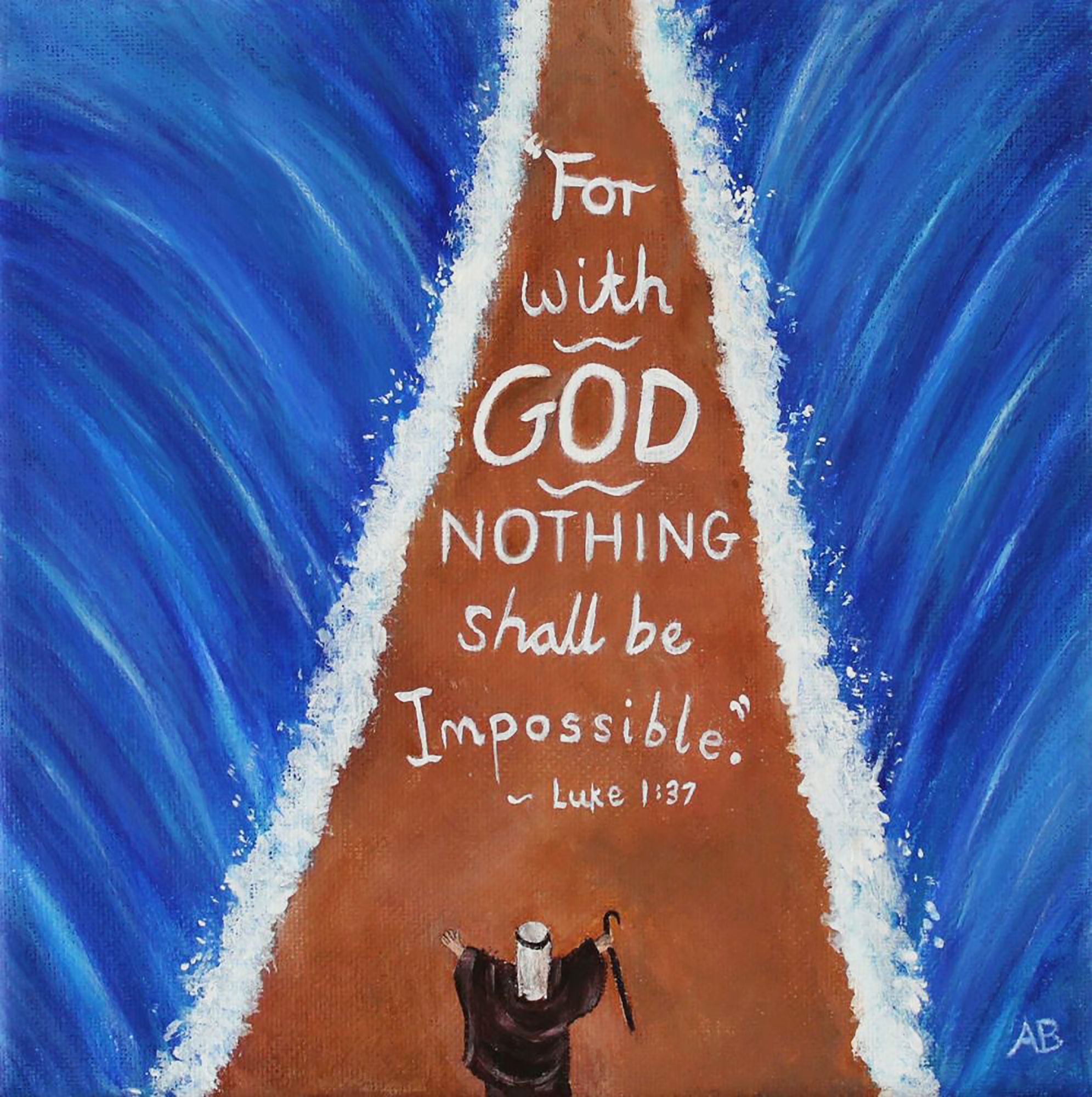 'Way Maker' acrylic on canvas. God parted the Red Sea and led Moses and the Israelites out of slavery in Egypt. If God can part the sea, making a way when there seems to be no way, He can do anything!
The Scripture says, "For with God nothing shall be impossible" ~ Luke 1:37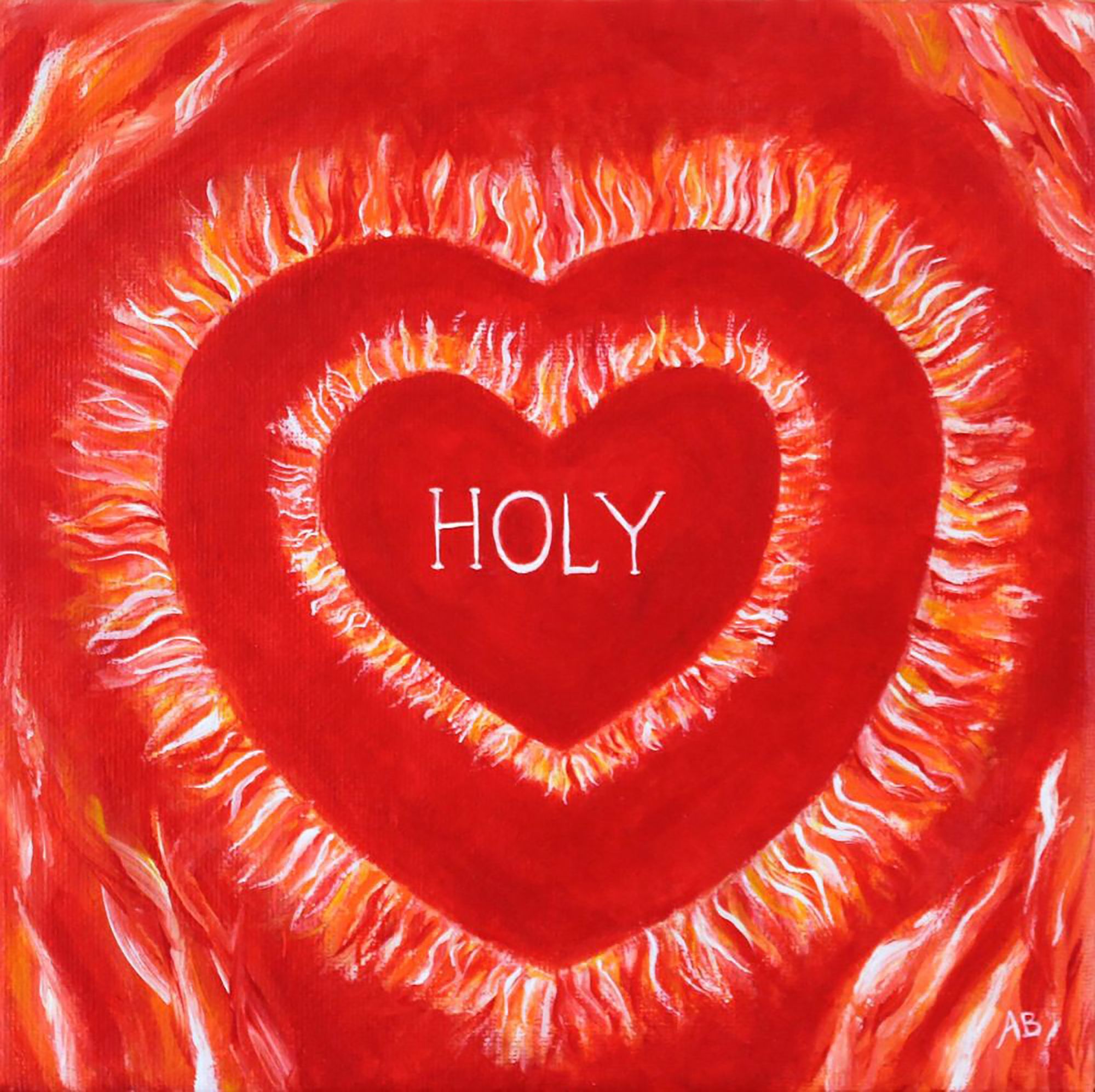 'Holy Fire' acrylic on canvas. God is holy and His passionate heart of love for His people is like a fire. The fire of God in our lives gives us the passion for Jesus Christ. His fire purifies our hearts, it refines us and it takes away the things in our lives that are no longer needed or don't please Him.
His fire is a holy fire, burning in our hearts, enabling us to desire to live holy lives, set apart for Him.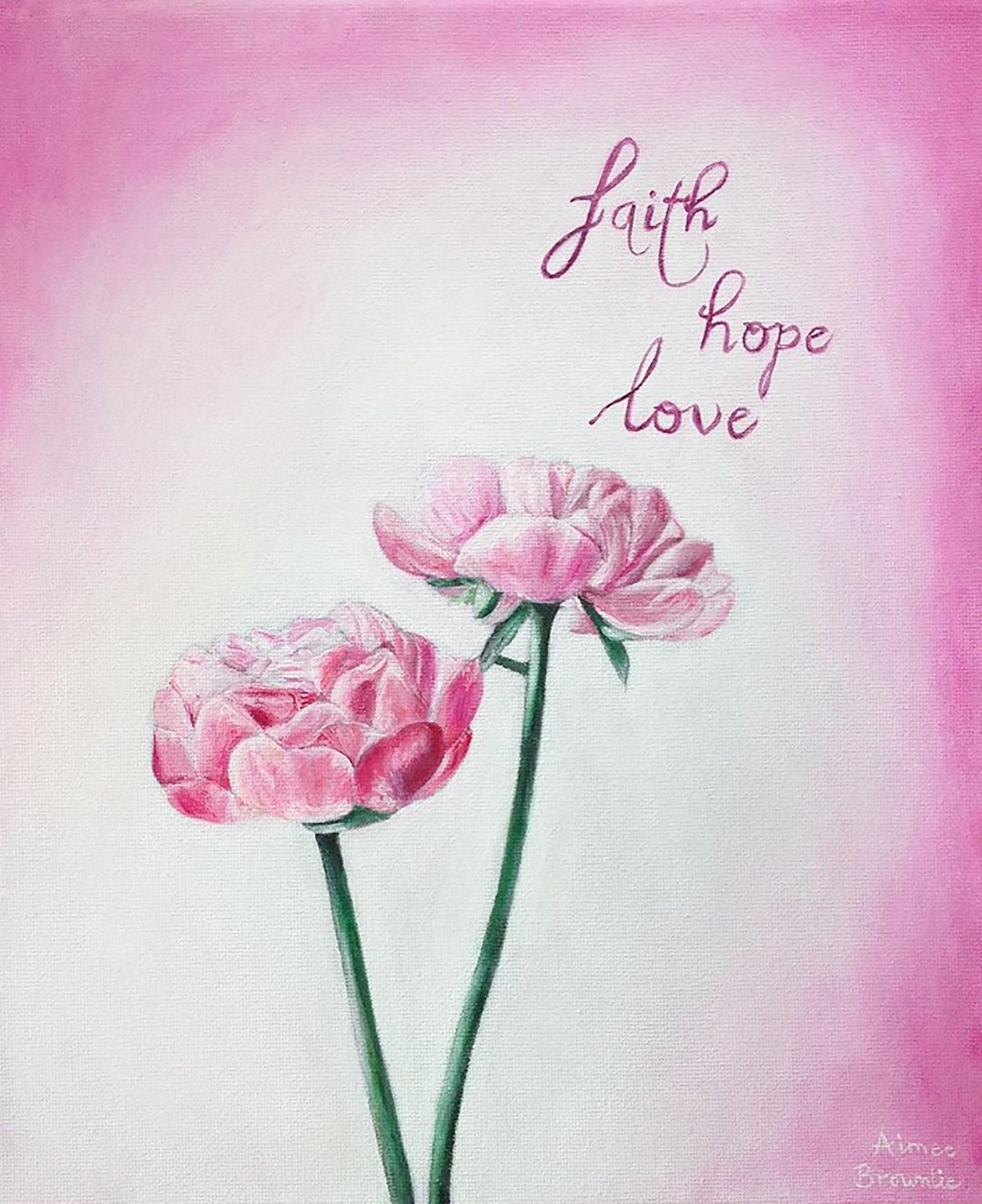 'Faith, Hope and Love' acrylic on canvas. This painting is inspired by 1 Corinthians 13:13 which says, 'Now these three remain: faith, hope and love. But the greatest of these is love.'
Jesus said the greatest commandment is loving God with all our heart, soul and mind and the second is like it - love your neighbour as yourself.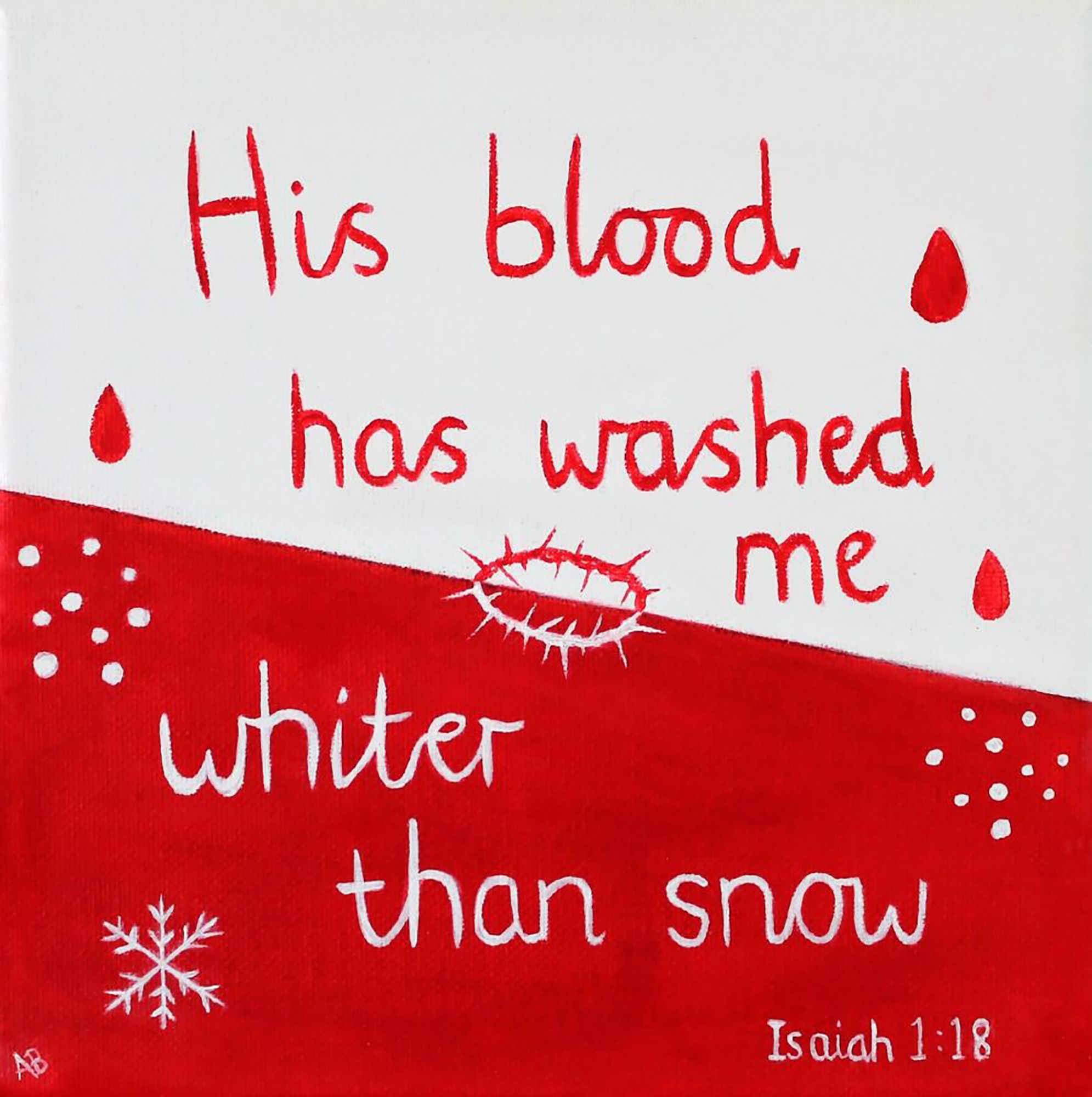 'No Greater Love' acrylic on canvas painting inspired by Isaiah 1:18, where God promises, "...Though your sins are like scarlet, they shall be as white as snow; Though they are red like crimson, they shall be as wool."
Nothing can separate us from the love of God which is in Christ Jesus our Lord. There is no greater love.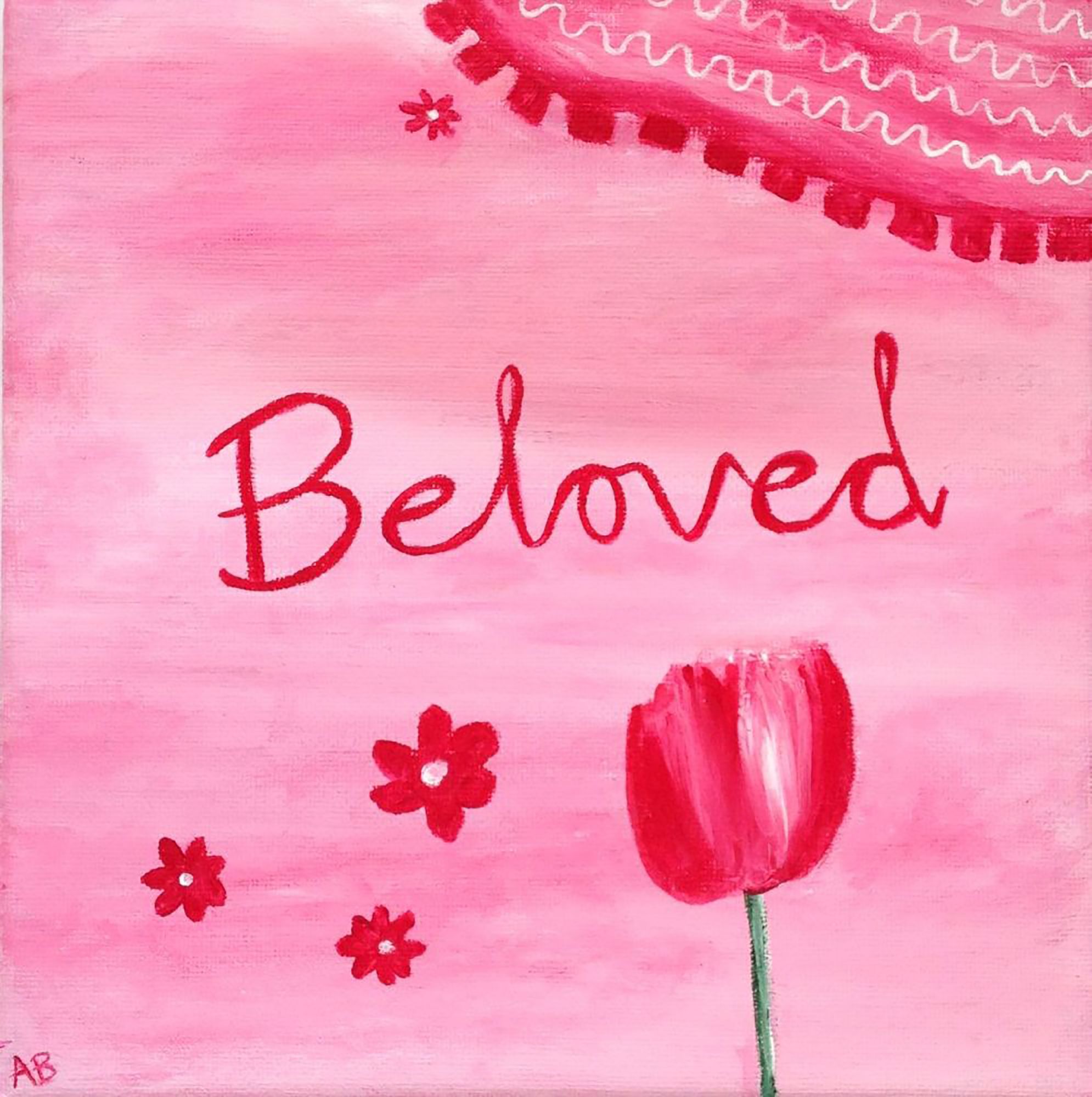 'Beloved' acrylic on canvas. This painting is a celebration of our identity as God's beloved children when we receive Jesus,
'...to the praise and glory of His grace, by which He has made us accepted in the Beloved.' ~ Ephesians 1:6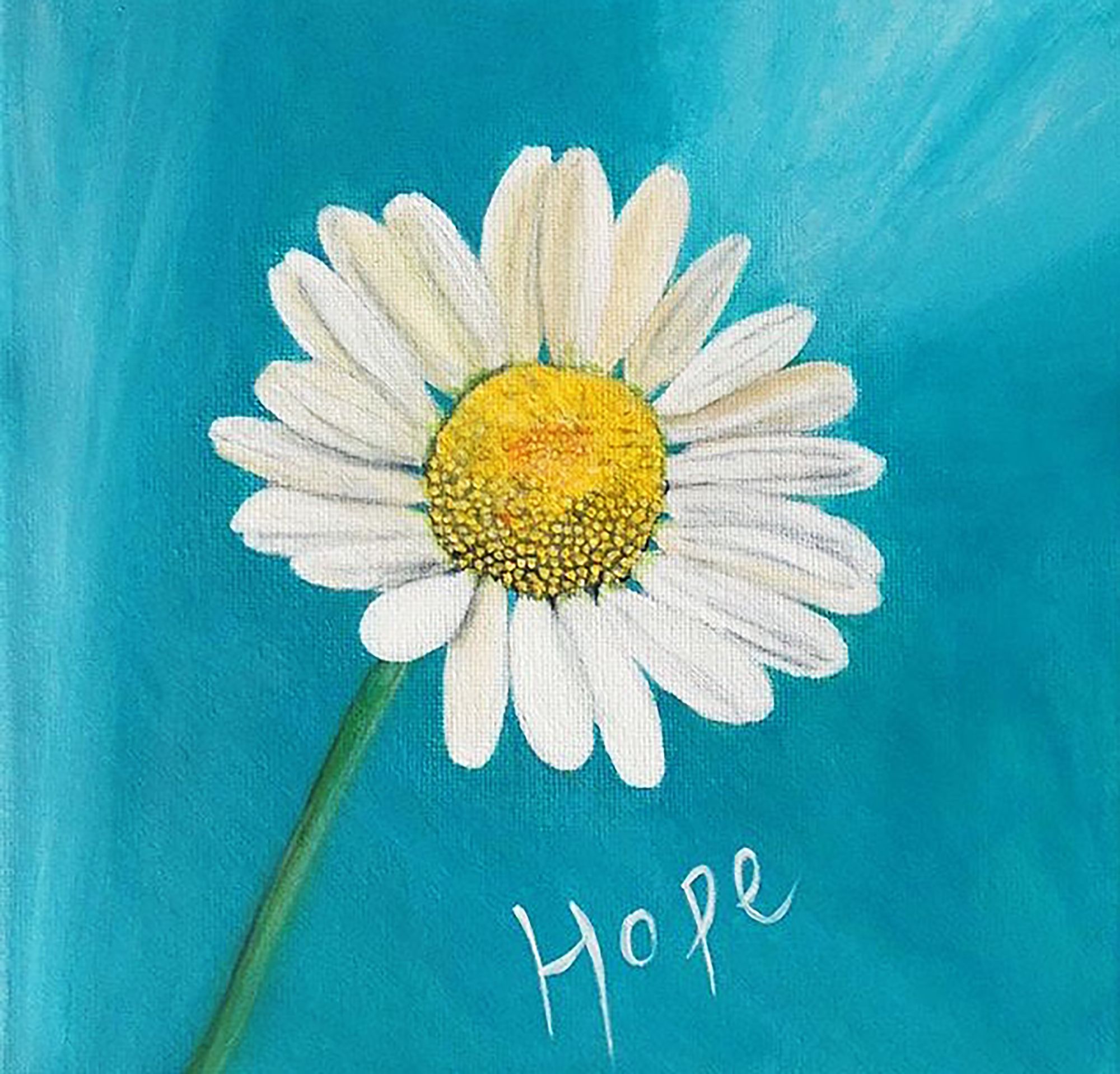 'Hope' acrylic daisy painting. With God there is hope for our lives. He gives us purpose and meaning and has a special plan and destiny for each one of us.
'Now hope does not disappoint, because the love of God has been poured out into our hearts by the Holy Spirit who was given to us.' ~ Romans 5:5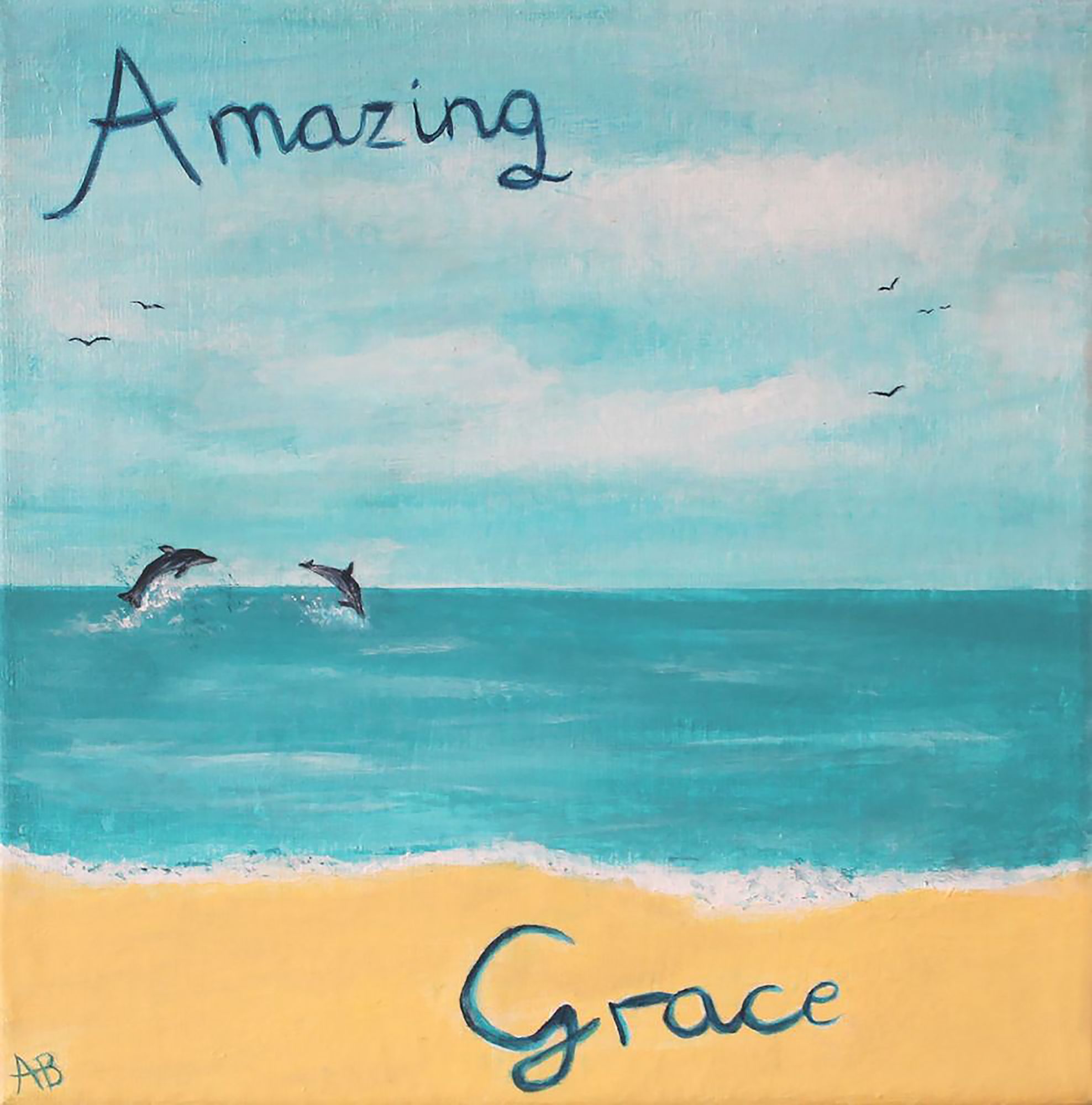 'Amazing Grace' acrylic on canvas painting of dolphins leaping out at sea. God's grace is like an ocean - it's vast, unending and washes over us.
His grace is truly amazing, we could never do anything to deserve it, yet He gives it freely because of how much He loves us.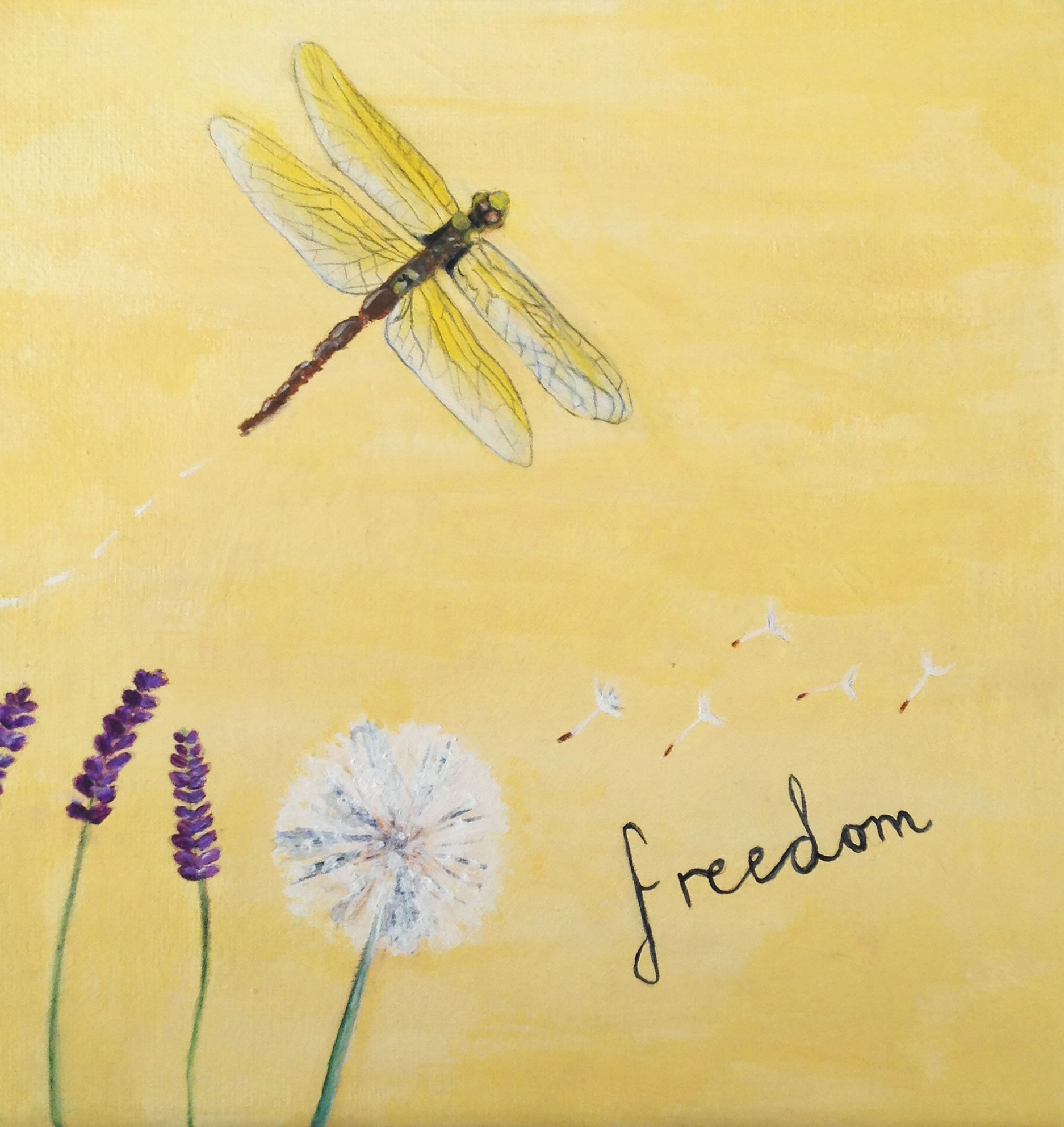 'Freedom' acrylic painting of a dragonfly, lavender and a dandelion.
Jeuss said, "Therefore if the Son makes you free, you shall be free indeed." ~ John 8:36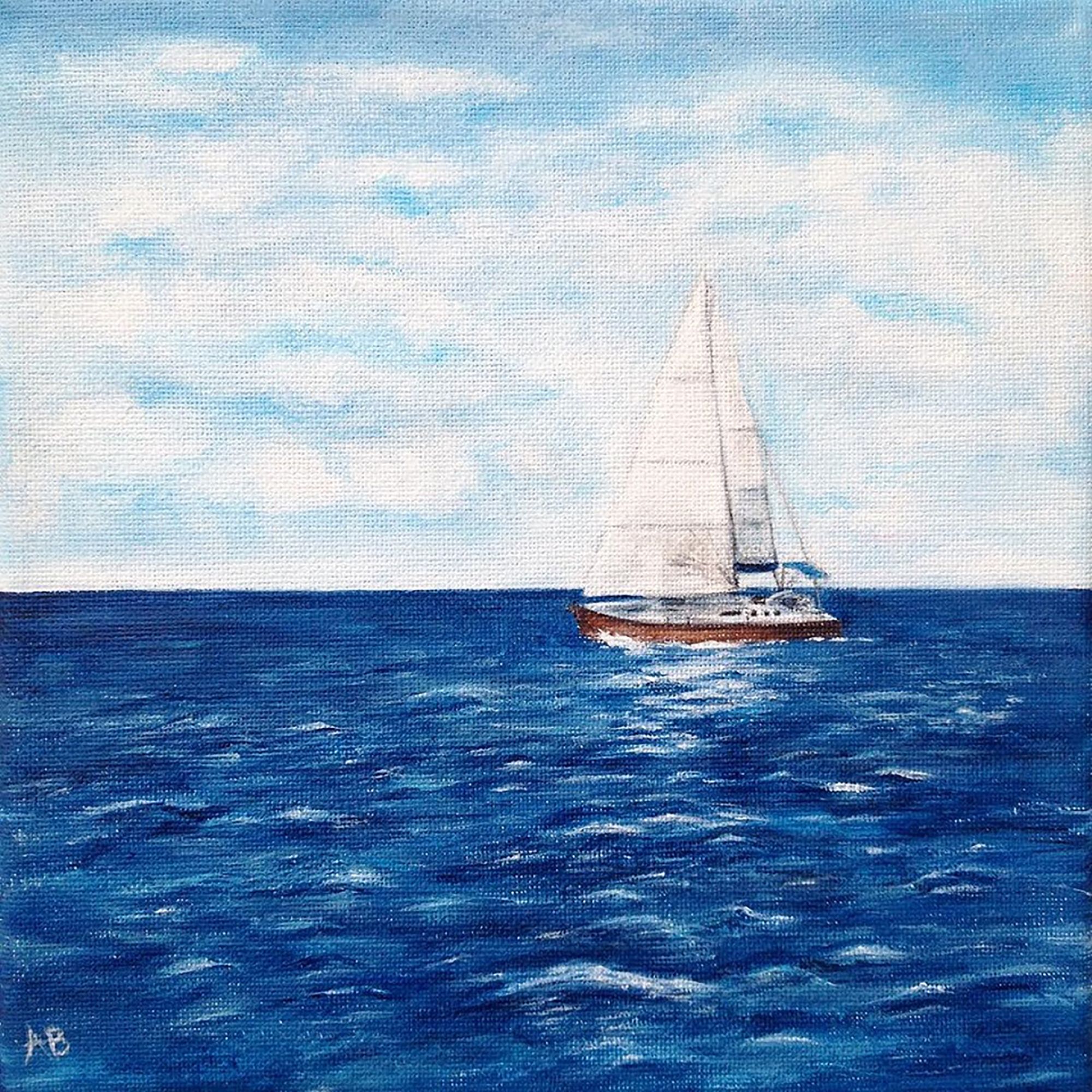 'Steady Sailing' acrylic on canvas painting of a yacht sailing steadily at sea. This represents being steadfast in our walk with God. To be steadfast is to stand firm in our faith, to let nothing move us. To be committed, loyal, faithful and devoted to God.
'Let us hold fast the profession of our faith without wavering, for He who promised is faithful.' ~ Hebrews 10:23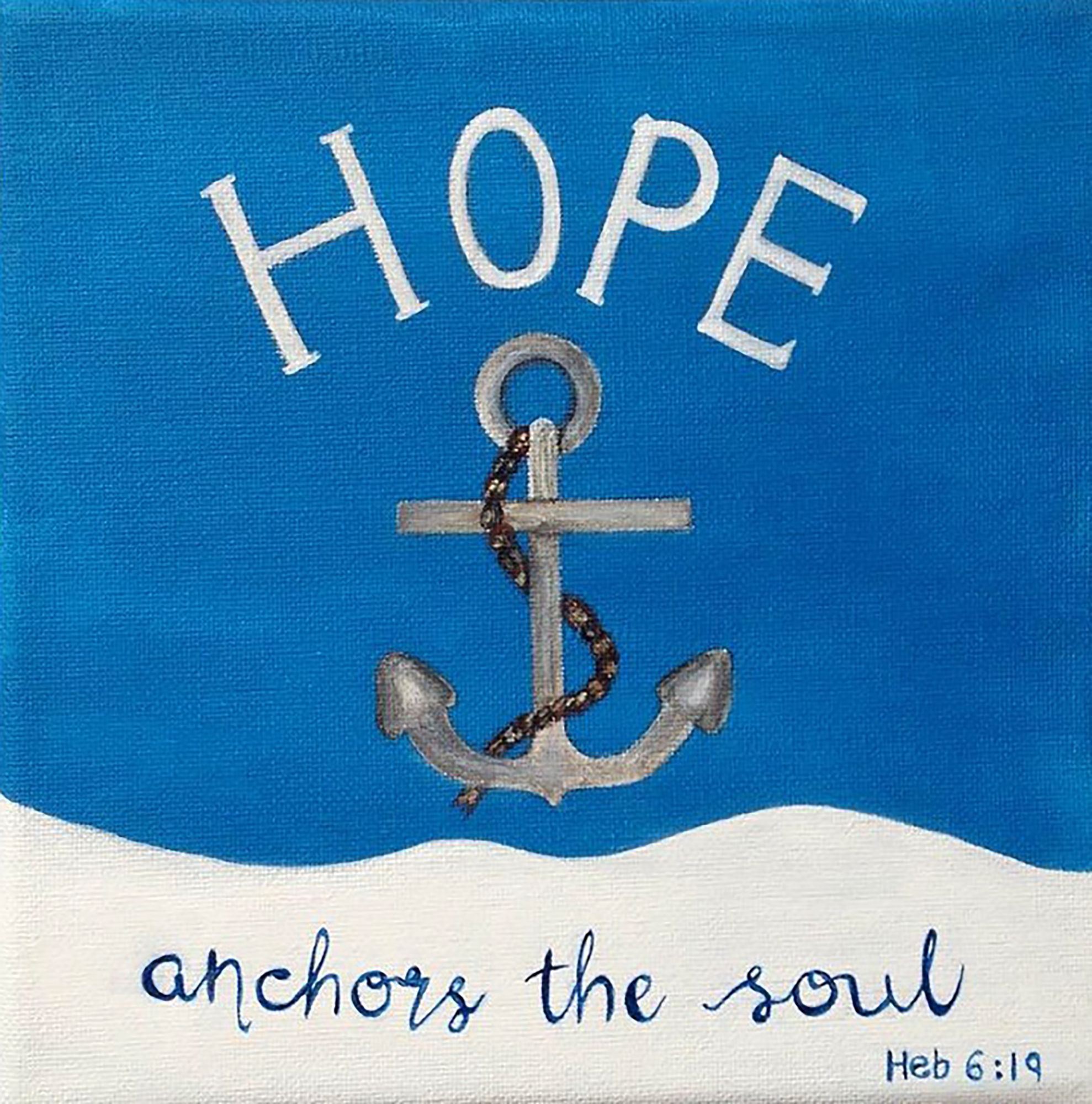 'Hope Anchors the Soul' acrylic on canvas Scripture painting inspired by Hebrews 6:19; 'This hope we have as an anchor of the soul, both sure and steadfast, and which enters the Presence behind the veil.''
The hope we have in Jesus is an anchor for our souls as it holds us, keeps us from drifting, is strong, immovable and steadfast. Hope anchors the soul.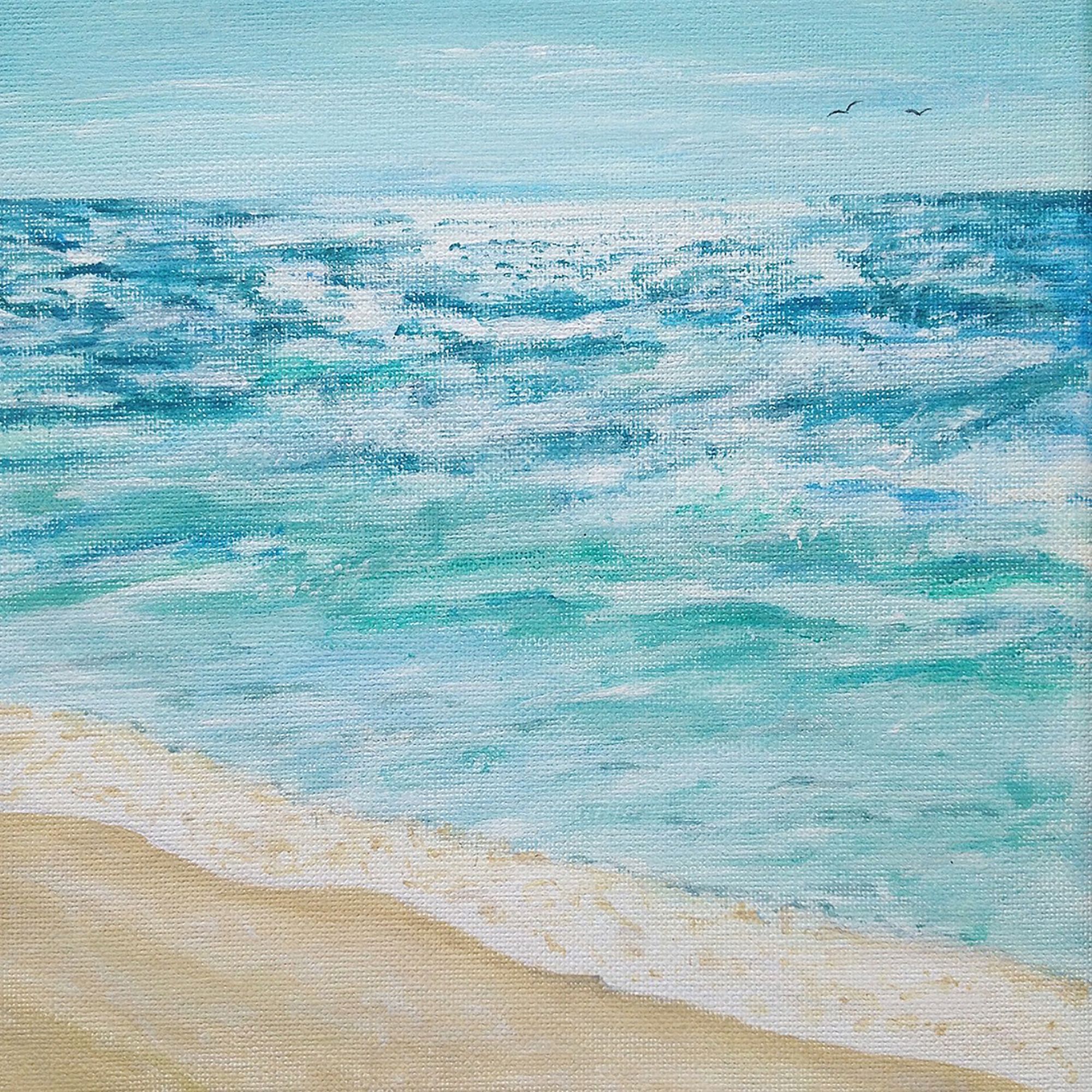 'Seashore' acrylic painting inspired by Psalm 139:17-18 which says; 'How precious are Your thoughts toward me, O God! How great is the sum of them! If I should count them, they would be more in number than the sand; when I awake am still with You.'
This verse tells us of how intimately God knows about us and how much He loves and cares for us. It amazes me to know that the thoughts God has towards us outnumbers the grains of sand on the seashore!